Abdullah bin Zayed honours Nelson Mandela's family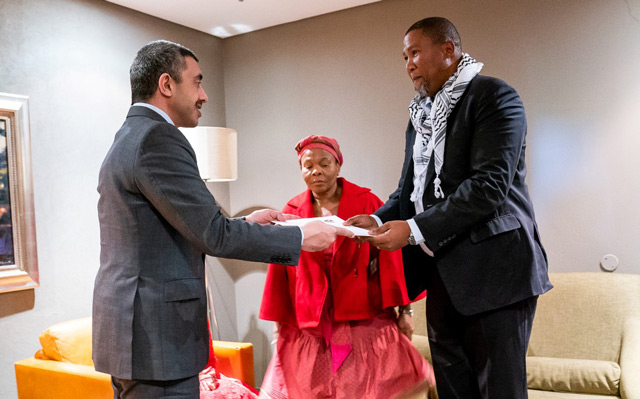 H.H. Sheikh Abdullah bin Zayed Al Nahyan, Minister of Foreign Affairs and International Cooperation, has honoured the family of former South African President Nelson Mandela, in recognition of the late leader's legacy and his friendship with the late Sheikh Zayed bin Sultan Al Nahyan, who for both leaders, the year 2018 marks the centenary of their birth.
Sheikh Abdullah bin Zayed Al Nahyan presented a thank you letter, which recognises Mandela's great standing with the UAE, to Zwelivelile 'Mandla' Mandela, the grandson of the late South African President, who received the note on behalf of his family.
The relationship between the two leaders was based on a firm foundation of humility, each of which viewed the other as a 'blessing' and understood the importance of dealing with their people with kindness and mercy. The late Sheikh Zayed said to Mandela during a meeting in 1998, "You are a blessing", for which the South African leader replied, "There is no greater blessing than you." The meeting reflected the mutual respect between both leaders.
Continuing the path of those strong relations, the Ministry of Foreign Affairs and International Cooperation is participating in the restoration of the Nelson Mandela archives through its contribution to the Nelson Mandela Foundation, where the UAE Embassy in Pretoria will be supervising the restoration process in coordination with the Foundation.
The ceremony was attended by Mahash Saeed Al Hameli, Ambassador of UAE to South Africa, Mohammed Sharaf Al Hashemi, Assistant Minister of Foreign Affairs and International Cooperation for Economic and Commercial Affairs, Lindiwe Sisulu, Minister for International Relations and Cooperation of South Africa and Susan Shabangu, South Africa's Minister of Social Development.
Follow Emirates 24|7 on Google News.