Abu Dhabi Crown Prince visits Emirati and Sudanese soldiers injured in Yemen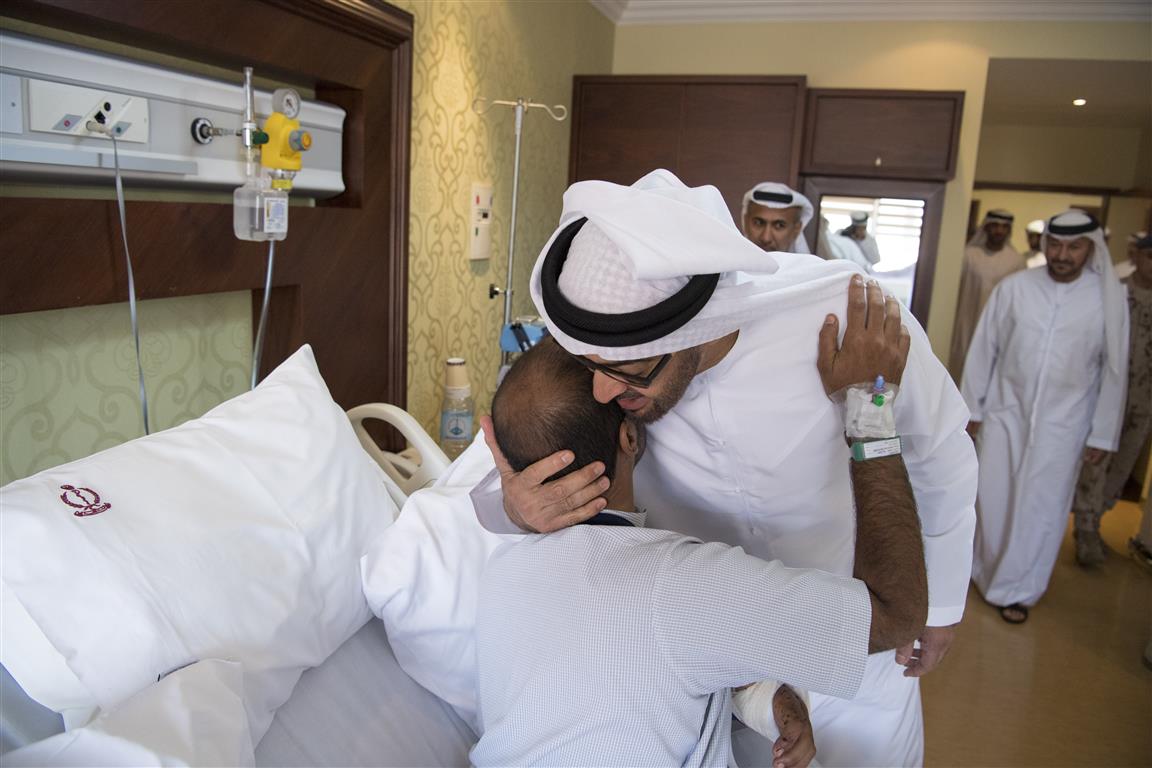 His Highness Sheikh Mohamed bin Zayed Al Nahyan, Crown Prince of Abu Dhabi and Deputy Supreme Commander of the UAE Armed Forces, today visited a number of servicemen from the UAE and Sudan at Zayed Military Hospital, where they are receiving treatment for injuries sustained while participating in the Arab Coalition's Operation Restoring Hope in Yemen.
During the visit, Sheikh Mohamed was reassured about the health condition of Emirati serviceman Fadhel Ahmed Al Muhairi and three Sudanese servicemen.
He had a friendly exchange with the injured, their family members and medical staff about the course and plan of treatment. He prayed to Allah Almighty to grant them a speedy recovery to return safe and sound to their families.
The Deputy Supreme Commander of the UAE Armed Forces expressed high appreciation of the Emirati and Sudanese soldiers' heroism, steadfastness, bravery and determination of the members of the armed forces of Sudan, UAE and other Arab Coalition members in the line of duty where they are carrying out the noble mission of defending their Yemeni brothers.
The injured soldiers, while expressing their appreciation of His Highness' visit, stressed that they are going to join the Arab Coalition forces once again to continue their national duty after their treatment is complete.
Saeed bin Ailan Al Muhairi, grandfather of Emirati serviceman Fadhel, highly praised the country's wise leadership for giving adequate attention and support to citizens thus continuing the legacy of the late Sheikh Zayed bin Sultan Al Nahyan, founder of the UAE who was always generous even in the hardest of circumstances.
Emiratis are always ready to sacrifice their most precious assets for their country, and however great their sacrifices are, they cannot be grateful enough for their country, Al Muhairi said, while recalling the generosity and humanitarian stances of the late Sheikh Zayed.
H.H. Sheikh Mohamed was accompanied by Noura bint Mohammed Al Kaabi, Minister of State for Federal National Council Affairs, Commissioner Ali Al Kaabi, head of the Federal Customs Authority, Mohammed Mubarak Al Mazrouei, Under-Secretary at Abu Dhabi Crown Prince Court, and Staff Major General Mohammed Murad Al Baloushi, Chairman of the Supply Department at the General Command of the Armed Forces.
Follow Emirates 24|7 on Google News.