Al Tayer: 'Current economic conditions pose a number of challenges'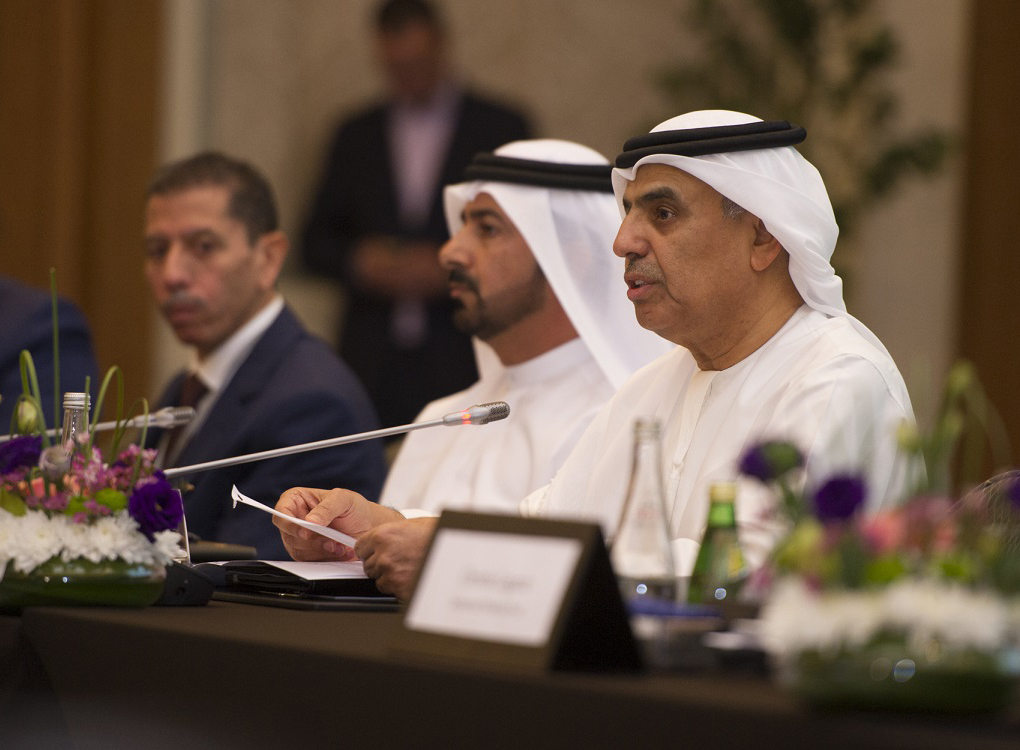 The Ministry of Finance (MoF), is participating in the Second Arab Fiscal Forum, which is organised by the Arab Monetary Fund (AMF), in collaboration with the International Monetary Fund (IMF).
Obaid bin Humaid Al Tayer, Minister of State for Financial Affairs, delivered a key-note speech during the forum in the presence of Christine Lagarde, IMF Managing Director, Dr Abdulrahman A Al Hamidi, Director-General and Chairman of the Board of the AMF, Arab ministers of finance, governors of central banks and senior officials and experts from regional and international financial organisations, including participating finance ministries in Arab countries.
In his speech, Al Tayer highlighted the UAE's gratitude at hosting the Arab Fiscal Forum for the second year running.
The forum brings together decision makers and thought leaders, as a platform to promote constructive dialogue on economic and financial issues in the face of the numerous regional challenges that must be addressed in order to guarantee sustainable growth and social welfare.
Al Tayer added: "Current economic conditions pose a number of challenges that should be addressed by decision makers, in order to design appropriate policies to promote inclusive and sustainable growth commensurate with the economic prospects, social conditions and long-term strategies for each country.
"This requires detailed and in depth studies that take into account local dimensions in light of international perspectives, in accordance with international models and global best practices."
He stressed the significant role of financial policies in achieving sustainable growth and macro-economic management to ensure price stability, external balance, raising the level of employment and social justice, in addition to traditional functions in the security, defence and judiciary fields.
In fact, he said, these require deliberate interventions in the socio-economic life.
Al Tayer added: "Good public finance management is measured based on several areas, including fiscal policy effectiveness, safety and budget transparency. The biggest challenge faced by government spending is the balance in providing public services, achieving long-term fiscal sustainability, and keeping tax burdens within a limit that does not affect growth."
He explained, "Government spending is a key element in the economic development process, therefore there should be efficient management of public spending and policies, as the financial rules, performance management, and institutional frameworks play a crucial role in achieving efficiency, and in facing challenges in the medium and long terms.
"This is to achieve sustainability in public spending, ensuring the desired economic goals and social welfare, by focusing on performance criteria, evaluating economic feasibility, and maintaining control, in addition to the study of potential services that can be delivered by the private sector instead of the public sector, under the terms of efficiency and distributive justice."
The Minister of State for Financial Affairs highlighted that the forum will provide a platform for establishing new collaborations for sustainable economic development along with providing an opportunity to exchange views and experiences with government officials and thought-leaders to discuss cooperation and to strengthen strategic partnerships in line with the nation's aspirations for a better future.
"I would like to extend my gratitude to the Arab Monetary Fund for the well organised forum, and to the International Monetary Fund for its contribution to its success.
"I would like to also extend my gratitude to the participants and everyone else who contributed to the success of the forum. I hope these meetings will continue to strengthen our integration and businesses," he concluded.
Follow Emirates 24|7 on Google News.