Dahi Khalfan, Abdul Ghaffar Hussain honoured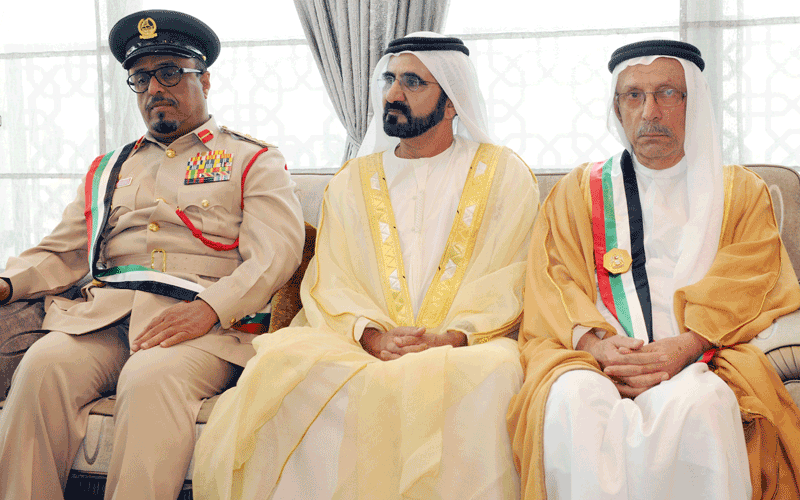 His Highness Sheikh Mohammed bin Rashid Al Maktoum, Vice-President and Prime Minister of the UAE and Ruler of Dubai, has conferred the "Mohammed bin Rashid Al Maktoum Cordon" on His Excellency Lieutenant General Dahi Khalfan Tamim, Commander-in-Chief of Dubai Police and Abdul Ghaffar Hussain, Chairman of Emirates Human Rights Association.
In remarks at a special ceremony which brought together a host of sheikhs, senior officials and high-profile figures, Sheikh Mohammed praised both Tamim and Hussein and described them as "two outstanding national figures who have always served their country and championed humanitarian, human rights and social issues in all the UAE.
"For over three decades, Dhahi Khalfan and Abdul Ghaffar Hussein, have always been clad in integrity, dignity, honour, dedication. righteousness and virtue. That is why they deserve this honor today," Sheikh Mohammed said.
Expressing pride in receiving the honor, Dahi Khalfan Tamim said he is "a student of the great mentor, Sheikh Mohammed bin Rashid Al Maktoum, in whose school I learnt diligence, devotion and dedication to national work, freedom of expression and courage."
Abdul Ghaffar Hussain said the honour will always be a source of pride and an incentive for more work in service of the country.
Present at the ceremony were Sheikh Ahmed bin Saeed Al Maktoum, President of Dubai Civil Aviation Authority and Chairman of Dubai Airports and Emirates Group; Sheikh Hasher bin Maktoum Al Maktoum, Director General of the Department of Information; Sheikh Majid bin Mohammed bin Rashid Al Maktoum, Chairman of the Dubai Culture and Arts Authority.
Follow Emirates 24|7 on Google News.