Future is key to reviving Arab civilisation: Mohammed bin Rashid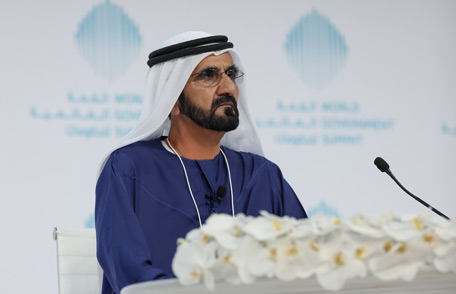 Answering a question how the UAE managed to balance economic and tourism openness with security, Sheikh Mohammed said: "The world's problems are open-ended and we have to grow for the interest of our people and our country. If we said 40 years ago let us stop until it is safe, we would'nt achieve anything. We have people who carry out their duty of keeping us secure, while we are engaged in developing our country."
Sheikh Mohammed said the UAE has no recipe for success, but to endeavor, learn, gain expertise and importantly, appreciate the value of time.
"We do not boast perfection. We still learn every day and we waste no time because for us, time is like a running river. The experiment of the UAE speaks for itself for whoever wants to emulate it. All I can say is that we have advanced qualities in leadership and management," he said.
Sheikh Mohammed praised UAE's special relations with Egypt, describing the latter as "the heart and soul of the Arab world."
On how to develop civilisation through separating religion and politics, he said: During the pre-Islam era, tribes fought and invaded each others and when Islam came, the civilisation started. Today, there are people with half or no knowledge at all, who blow themselves up in Europe and America in the name of faith. Their interpretation of Islam is completely wrong. It is a tolerant faith that calls for peace for all people of the world, not only Muslims. They just want to kill men, enslave women and refer that to religion. They simply know nothing."
Asked if he believed in conspiracy theory, he said: "Yes. Nations plot against other nations. They plot against you because you plan wisely for the welfare of your people. Conspiracies are there since the beginning of the world. However, we cannot only blame conspiracies. Our country suffered conspiracies, criticism, media wars and economic wars, but they only made us stronger."
On the future of UAE relations with the United States under the administration of President Donald Trump, Sheikh Mohammed said: "Our relations are built with governments, not individuals. We will talk to the new President, exchange views and build our relations (with the united States) on the mutual interests of our countries and peoples. If you ask me whether previous administrations made mistakes, I would say yes. They destroyed Iraq and they supported Arab revolutions. Instead of turning Iraq into a model state for the Arab world, the country has become the worst example."
Sheikh Mohammed applauded the progress of the Gulf Cooperation Council under the Custodian of the Two Holy Mosques King Salman bin Abdul Aziz and other leaders. He, however called for not pursuing the dream of 'Arab Common Market."
"It is an old dream. The (Arab) commerce ministers are still dreaming of the Arab Common Market. the world has changed and became a Common Global Market. I tell them, it is time to leave that 70s rhetoric behind you and open to the world. Why should I open to neighbours in the time of cross-border trade."
he gave the UAE national carriers as example by saying: "Our planes today carry passengers to China and Brazil. Other planes serve 260 airports around the world. Tourists come from everywhere. Trade is open. We currently have confirmed plane orders for a total value of AEd 100 billion. Today, the world is open. We take goods from China and import them to the Americas and Africa."
Sheikh Mohammed also spoke about corruption, saying it is the root cause for failure of governments and states.
"In some countries, you can feel see corruption from the moment you set foot on the airport. It has the order of the day in those countries, but in the UAE, I promise you, His Highness Sheikh Mohamed bin Zayed Al Nahyan and I, will never tolerate corruption. We are responsible before Allah the Almighty and before our people that no mistake will go unpunished.
On his recent visit to Dubai Municipality, he said: "Some senior officials were doing very good in the past. I was closely following their performance through reports of the secret shoppers and I tried to give them a room to develop. but some of them thought I forgot them. After thorough review and consultations, we decided to refer them to retirement. We honoured and thanked them and pumped a new blood in the Municipality."
Sheikh Mohammed said some media outlets in the Arab world turned into sectarian platforms, forcing people to resort to social media to avoid the stations that instigate conflicts.
Sheikh Mohammed said the first thing he focused on when he became the ruler was excellence.
"I managed to create a competition among the different departments. I once asked the media to publish a list of the five worst departments. That was enough motivation for those departments to move fast. When I was asked to join the federal government, some friends and advisors were a little skeptical. They told me: you managed to help Dubai succeed but the federal government is full of red tape and literally bankrupt. Now, with the help of my brothers the leaders and the ministers, I can say our federal government is by far ahead of other governments.
Sheikh Mohammed also praised the active participation of women in the UAE, saying 70 percent of women are university graduates.
"About one third of the cabinet is made of women. We believe that no community can function without women's involvement. Soon, women will occupy 50 percent of the cabinet portfolios."
Asked how he manages to be very active, holding meetings, inspecting government facilities and riding horses, he said: "In the UAE, if the day was 48 hours, we would have 4 cities of the Dubai likes. In fact, we would have two of the UAE likes. Time management is very important. We have to organise our time by making rooms for physical activity and meditation."
Sheikh Mohammed concluded by speaking about the youth. He said: "When we decided it is time to appoint a minister for youth, I was told that the youth lack experience. I said I do not want their knowledge or experience, I just need to know what they can give us. We contacted universities and we held meetings and then we had (the current Minister of State for Youth Affairs) Shamma AlMazrui, who came up with the idea of youth committees and youth councils in each emirate and even abroad. Today, Shamma has the biggest youth ministry. In fact, she has the biggest ministry in the world."
Follow Emirates 24|7 on Google News.