Gen Mohammed meets consultative authority members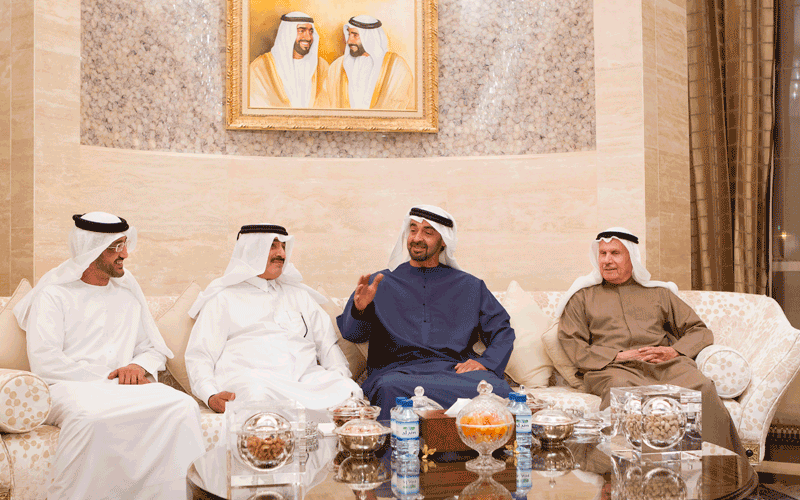 General Sheikh Mohammed bin Zayed Al Nahyan, Crown Prince of Abu Dhabi and Deputy Supreme Commander of the UAE Armed Forces, praised keenness of the GCC leaders about the issue of the alternative energy and its uses.
He stressed that the GCC and the region face huge challenges when it comes to energy and preservation of water, a situation, he added "requires strenuous work and solidarity to find appropriate solutions to the challenges".
This came during his reception here today evening at Al Mina Palace the members of consultative authority of supreme council of GCC, who converged in Abu Dhabi to attend the first meeting of 14th session of the consultative authority of supreme council of the Arab States Gulf Cooperation Council under chairmanship of the UAE. The meeting opened yesterday and concluded on Wednesday.
Sheikh Mohammed welcomed the members, who briefed him about the accomplishments in the light of the resolutions issued by the GCC leaders in their recent meeting, held in Abu Dhabi last December. The authority was assigned to study the files of the alternative energy and development of exports.
Exchanging the views with the members of consultative authority, Abu Dhabi Crown Prince underscored that the UAE nuclear projects and their peaceful uses, and adopting of clean and renewable energy policies "are in line with keenness of the UAE under leadership of President His Highness Sheikh Khalifa bin Zayed Al Nahyan on issues of environment and sustainable development, which have repercussions on new generations".
On their part, the members of consultative authority thanked the UAE leadership and government for their good hospitality and organisation of the meeting, hailing the support of Sheikh Khalifa to the meeting.
They also expressed their pleasure for meeting Sheikh Mohammed and listening to his ideas regarding the reinforcement of joint GCC work.
Follow Emirates 24|7 on Google News.