Global Women's Forum Dubai 'live': 'Dubai Cares has changed paradigms'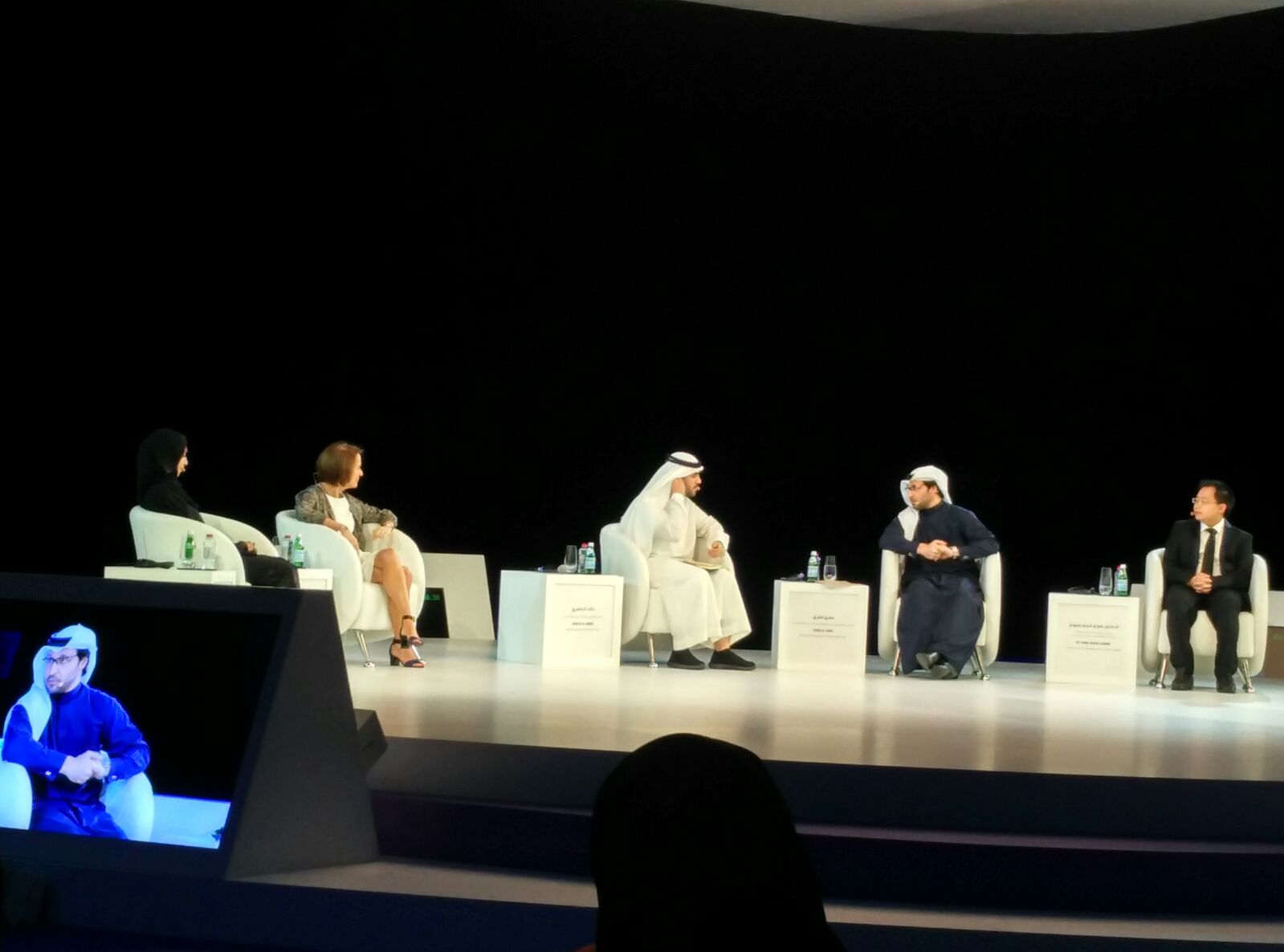 Topic: Creating Lastic Social Impact. Philanthropy and social entrepreneurship are yielding new approaches to social impact, and serving up new models for making change.
Speaker::
Tariq Al Gurg, Chief Executive Officer, Dubai Cares
Hong Sheng Chiong, Founder & CIO, OphtalmicDocs, New Zealand
Manal Omran Taryam, Chief Executive Officer, Dubai Noor Foundation, UAE
Monique Villa, Chief Executive Officer, Thomson Reuters Foundation
Moderator:
Khalid Al-Ameri, Emirati Writer and Columnist
Tariq Al Gurg, Chief Executive Officer, Dubai Cares:
At Dubai Cares, today we write our own programmes. We invest a lot of money into research. The findings help us to innovate. I do agree that a lot of philanthropies started off as cheques writers. But after the financial crisis, we have smart donors. They want to know where they spend the money.
At Dubai Cares we have innovative models. We have changed paradigms. It is true that leadership should have commitment in terms of gender equality etc., we have to have gender equality starting from school. There should be a fifty-fifty ratio. That is when if there are no drop outs, it will go on to influence jobs. Dubai Cares does a lot in terms of education and also ensures quality of education and teacher training literacy programmes.
In Philippines, for exampale, there are three issues with girl child early marriages, early pregnancies (14 years of age) and after secondary forced to factory jobs.
We created an accelerated programme where we give them six months of boost to school dropouts to reach their natural grades. We created student clubs with support from boys to help girls. We also have lower secondary and higher secondary to ensure that girls continue to study.
Monique Villa, Chief Executive Officer, Thomson Reuters Foundation
A lot is wasted in charity money. Many organizations spend money on themselves.
When I started off as a journalist, I did not know how a charity was run. I was shocked at what was being done. We were giving grants as well. During earthquake in China we did give funding. When we tried to find what happened with our money. Then I found that we were helping to buy blankets.
Then I used the foundation to use our skills. We don't give grants, we give services. We have four programmers one of which is to train journalists. We also have a team of journalists to cover under reported issues.. These are humanitarian issues. Human rights and women's rights... human trafficking etc
The third programmer is about Trust Law.
It is to help those who cannot afford legal help - to help pro-bono in the world. My budget every year is $6 million. We have multiplied our impact.
In response to a question about how do you ensure innovation is on top of the agenda, Monique says the first thing is to hire brilliant people. Always take the most brilliant one the rest will follow. When I took over the foundation we were about 20 people. Today we are hundreds. Never lose a start-up mentality. This is the only way to reach a bigger impact. Through Trust Law, for example, we have been helping regulations around the world. Today we have six law firms fighting to get certain philanthropic related regulations in place. We put a trust law comparing 12 countries and the work laws there and it has changed the lives of 2 million workers in the Philippines.
Last year we launched a 'Stop Slavery Award'. This year we will start giving it. In order to encourage we want to give the award to companies that can vouch to have no involvement in forced labour etc.
Manal Omran Taryam, Chief Executive Officer, Dubai Noor Foundation, UAE
We also have smart philanthropy. It went through a lot of conflict.
How have you used innovation?
We started in 2008 as a foundation. We were required to help a million people who were suffered with vision impairment. We collaborated with various agencies. We are talking not about making a blind person see again but taking care of the community around them.
Our work is preventing blindness - treating existing blindness and working around their lives.
In reply to a question about how know innovation works, she says what we adopted in Dubai was reel medicine. In the UAE it's high rates of diabetes, it was a challenge to provide increasing number of physicians. So we introduced reel medicine. The technology was provided within primary healthcare linked then to experts in large hospitals. In Dubai, we are talking bout 14 different healthcare centres. I cannot prevent diabetes but I can help a patient manage his diabetes and live a happy life. Technology thereby comes to help.
Hong Sheng Chiong, Founder & CIO, OphtalmicDocs, New Zealand
We are working on an organisation called Opt Sonic Docs. More than 80 per cent of blindness can be treatable. 39 million are still blind and 289 million suffering from issues related to vision. When I started as a junior doctor, I could just do five patients a day. But how could I treat millions. I then started to look at issues. 80 per cent of general practitioners are not confident of treating eye patients.
⁠⁠⁠That's when we said let's change it. We converted smartphones to help diagnose eye care, allow them to take a pictures of the retina.
So it can be done. It's about finding the pass soon and doing it. Time is never a constraint.
Question & Answers session:
How do I decide whom to help?
Tariq Al Gurg says to us it is education. We look at those who are in need of it. There is a global monitoring report. We look into that. We speak to UN agencies. International groups and we have our own teams that study in depth. These are the parameters at Dubai Cares.
Monique Villa says for us we don't give aid we give services. For us the beginning is to ensure that the people we help are not dodgy. There're various ways to ensure that.
Manal Omran Taryam says for research we go into statistics and a combination of various factors. A very important factor is how much that government is willing to get the service. You cannot force yourself into a country. There is a cultural aspect and a trust aspect as well. Therefore local support from government and volunteers is very important.
Hong Sheng Chiong says we don't directly give any assistance. We give equipment and these are fully open to the entire world.
What is your opinion on not just NGOs but entrepreneurs who have social aspects in mind?
Monique Villa says social enterprises have taken a lead. And it will be great if people can invest in it.
Hong Sheng Chiong says essentially if any business has to exist has to do some sort of service or solve a problem. In this day and age border is thin between organisations that deal with social cause companies that want profit.
As a mother of two, are your organisations working out there to look for talents like kids who want to help out and involve in philanthropy - basically about engaging young students?
Tariq Al Gurg says we work with sustainable development. Innovation will help make it less expensive. Developed countries' cost of education is dropping. In developing countries we have to go through this curve.
Manal Omran Taryam says Sheikh Mohammed bin Rashid Global Initiative is a plan which will soon be implemented to involve school volunteers. It is not just education that is getting expensive - even healthcare is becoming expensive. Innovation within work will enable it to become accessible and cheaper.
Monique Villa says says there's an enormous pay gap between men and women. Even in the US. In India the gender gap is much bigger. On education very little that we can do.
Follow Emirates 24|7 on Google News.