Hamdan approves strategic initiatives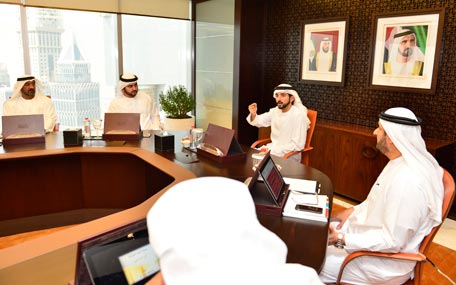 Sheikh Hamdan bin Mohammed bin Rashid Al Maktoum, Crown Prince of Dubai and Chairman of Dubai Executive Council, chaired the Dubai Executive Council's meeting held today at the Emirates Tower.
Sheikh Maktoum bin Mohammed bin Rashid Al Maktoum, Deputy Ruler of Dubai and First Deputy Chairman of Dubai Executive Council, also attended the meeting.
The meeting started with the reading of verses from the Holy Quran, in remembrance of the UAE martyrs who died in the line of duty while taking part in 'Operation Restoring Hope' led by Saudi Arabia in Yemen.
Sheikh Hamdan expressed his admiration for the heroic efforts of the UAE Armed Forces and affirmed the close bonds between the leadership and people of the UAE.
Participants in the meeting discussed several issues and projects. Dubai Municipality proposed a policy aimed at preserving groundwater in Dubai and presented the findings of a survey on the current state of groundwater in the emirate. The Dubai Executive Council endorsed the proposed policy. The new policy outlines the principles of sustainable groundwater management that need to be followed to protect water resources from pollution and misuse and expand groundwater reserves.
They also discussed the Knowledge and Human Development Authority (KHDA)'s new schools inspection system including its monitoring, assessment and inspection criteria. The meeting approved the new system that is in alignment with the objectives of the National Agenda and the National Innovation Strategy.
The Dubai Model Centre, a subsidiary of the Executive Council's General Secretariat, presented the findings of a survey about the expectations and needs of Dubai Government's customers. The third of its kind, the survey aims to outline what individuals and businesses expect from Dubai Government.
Follow Emirates 24|7 on Google News.