Hamdan attends Emirati values forum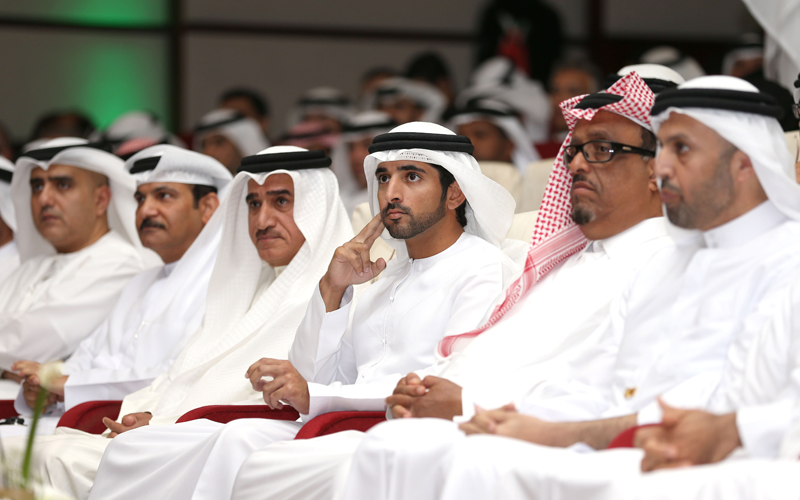 Sheikh Hamdan bin Mohammed bin Rashid Al Maktoum, Crown Prince of Dubai, attended the opening of Watani Forum for Emirati Community Values held today at the Zayed University campus.
The opening ceremony was attended by Dubai Police Commander-in-Chief Lieutenant General Dahi Khalfan Tamim, Dubai Attorney General Essam Essa Al Humaidan, Abdulla Al Shaibani, the Secretary General of the Dubai Executive Council, Major General Mohammed Ahmed Al Marri, Director of General Directorate of Residency and Foreigners Affairs, and a number of senior officials.
In his opening speech, Darrar Belhoul Al Falasi, General Manager of 'Watani' programme, a national identity initiative, announced the results of the survey conducted by Rayak,a center specialised in preparing surveys on public opinion, in collaboration with "Barrett Values Center".
The survey covered 4,100 individuals from different segments of the community. Watani programme launched the UAE Societal Values Survey, the first of its kind in the region, to monitor the features of core values that characterise the social fabric of the United Arab Emirates.
He said the UAE community enjoys the world's highest standards in terms of societal, human and ethical values and peace thanks to the close national cohesion and harmony between the leadership and people.
Richard Barrett, Founder and Chairman of Barrett Values Centre, said the survey showed that in spite of the significant diversity existing in the UAE, the community is enjoying remarkable harmony.
The UAE has emerged as a country that values peace the most, out of 18 measured by Barrett Values Centre. Amazingly, the UAE society is full of ambition and respect of values. Respondents selected values such as peace, educational opportunities, aesthetics and loyalty. The Barrett Values Centre said the UAE was the only country among those surveyed to date that placed the value of "peace' in its top 10 current values. It said this indicated a "strong sense of security" felt in the community and this was a crucial factor in the stability of any country.
Sheikh Hamdan shook hands with Richard and Barrett Center team and thanked them for their efforts.
Follow Emirates 24|7 on Google News.