Hamdan bin Zayed inaugurates Sheikh Khalifa bin Zayed highway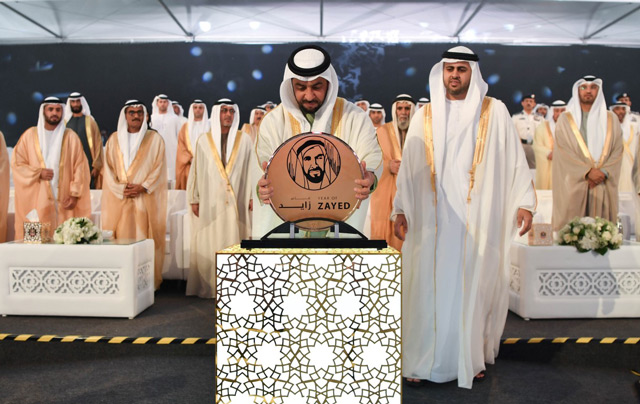 H.H. Sheikh Hamdan bin Zayed Al Nahyan, Ruler's Representative in Al Dhafra Region, today inaugurated the Sheikh Khalifa bin Zayed highway, in the presence of H.H. Sheikh Theyab bin Mohamed bin Zayed Al Nahyan, Chairman of the Department of Transport.
The inauguration was also attended by Sheikh Sultan bin Hamdan bin Zayed Al Nahyan, Director of East Asia and Pacific Affairs at the Ministry of Foreign Affairs and International Cooperation, Sheikh Rashid bin Hamdan bin Mohammed Al Nahyan, Deputy Chairman of the Presidential Flight, Dr. Abdullah bin Mohammed Belhaif Al Nuaimi, Minister of Infrastructure Development, Dr. Sultan bin Ahmad Sultan Al Jaber, Minister of State, Sheikhs, senior officials and dignitaries.
Sheikh Hamdan announced that the highway, costing AED5.3 billion and constructed by the Abu Dhabi General Services Company, Musanada, under the supervision of the Abu Dhabi Transport Department, carries the name of President His Highness Sheikh Khalifa bin Zayed Al Nahyan, in recognition and appreciation of his role in leading the UAE's journey of giving, which has enabled it to occupy a prominent position among the world's countries.
He added that the UAE's development projects and plans aim to realise the vision of President His Highness Sheikh Khalifa bin Zayed to promote the country as a development, economic and social model to be followed by other countries.
Sheikh Hamdan stressed that these projects are supported and monitored by His Highness Sheikh Mohammed bin Rashid Al Maktoum, UAE Vice President, Prime Minister and Ruler of Dubai, and His Highness Sheikh Mohamed bin Zayed Al Nahyan, Crown Prince of Abu Dhabi and Deputy Supreme Commander of the UAE Armed Forces.
He further added that Abu Dhabi's development is being witnessed by its various regions and Al Dhafra had a significant share of these projects while highlighting the region's importance, as it has attracted major economic, commercial and investment projects to the country, including the nuclear energy plant in Barakah and the Shams 1 Solar Power Station Project.
He also noted the importance of doubling the emirate's future efforts to complete various projects, especially in the area of infrastructure, and providing the appropriate housing, health and educational services that meet its present requirements and future aspirations, to cope with the country's overall development.
Sheikh H.H. Sheikh Theyab bin Mohamed bin Zayed Al Nahyan also delivered a speech at the ceremony, where he stressed that this strategic project reflects the ongoing government efforts, led by President His Highness Sheikh Khalifa, to strengthen the foundations of comprehensive sustainable development in Abu Dhabi.
He added that the projects fulfil the requirements of growth and urban development and support local and international commercial exchange while stressing that the transport sector is the real artery of any comprehensive development, including its economic, social and environmental dimensions, and is a fundamental requirement for a strong economy capable of competing, attracting investments and facilitating the movement of people and goods between various regions of the country and Gulf Cooperation Council, GCC, countries, especially Saudi Arabia, which is linked directly to the UAE by the road.
The road upgrade was undertaken in several phases, covering 246 kilometres of the 327-kilometre highway, to significantly ease congestion and weather-related hazards for motorists.
The project entailed increasing the number of lanes from two-lane carriageway is now at least three lanes wide over the 64-kilometre stretch from Barakah to Ghuwaifat, and up to four lanes wide in the182 kilometres that span from Mafraq to Baynounah Forests. Each lane can accommodate a maximum of 2,500 vehicles per hour.
A total of 15 other new interchanges have also been constructed, and existing interchanges at Mafraq, Hameem, Abu Al Abyad and Madinat Zayed have been enhanced. At the same time, the highway is now fully lit with LED lamps in order to increase visibility and reduce fog-related risks. The overall asphalt level of the road has also been raised, and its drainage improved in order to prevent water accumulation.
For motorist convenience, lay-bys and hard shoulders have been established, and there are petrol stations at two new locations, near Barakah and Mirfa.
Camel underpasses have also been set up near Al Sila and Ghuwaifat so that farmers and camel owners can ensure the safe passage of camels.
Follow Emirates 24|7 on Google News.