Haya chairs Nursing Council meeting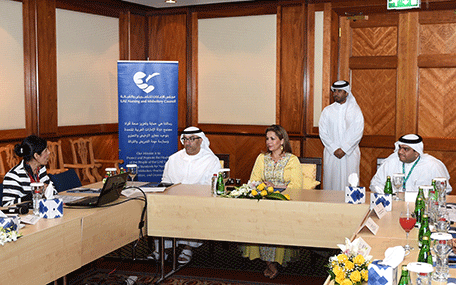 Wife of Vice President and Prime Minister of the United Arab Emirates and Ruler of Dubai His Highness Sheikh Mohammed bin Rashid al Maktoum, HRH Princess Haya bint al Hussein, President of the UAE Nursing and Midwifery Council, chaired the Council's first 2016 meeting at the Dubai World Trade Centre.
The meeting was attended by Minister of Health Abdul Rahman Mohammed al Owais; CEO of Al Jalila Foundation Dr. Abdulkareem Sultan al Olama; CEO of Education Sector at Dubai Healthcare City Authority Dr. Amer Sharif; Undersecretary at the Ministry of Health Nasser al Budoor; representatives from the Ministry of Health, Ministry of Higher Education, Ministry of Education, Ministry of Interior, UAE Armed Forces, Dubai Health Authority, Abu Dhabi Health Authority, Dubai Healthcare City, Sharjah University, Higher Colleges of Technology, Emirates Nursing Association and Emirates Medical Association; and heads of the Council's scientific committees.
HRH Princes Haya was briefed on the recommendations and results of the annual forum of the Council's scientific committees that was held on 11 January 2016 and the Council's 2016-2018 plan. The meeting also discussed the scientific committees' achievements over the past five years.
Princess Haya thanked the committees for their efforts and affirmed her full support for the Council. During the meeting, Princess Haya issued directives to establish a new office for the Council in Dubai Healthcare City. The members of the Council and committees thanked Princess Haya for her support. The meeting also agreed that the Ministry of Health will provide the budget required to recruit staff for the new office.
The meeting also reviewed the Emirates Nursing Association's report on the international nursing and midwifery conference that was held last November in collaboration with the UAE Nursing and Midwifery Council.
Follow Emirates 24|7 on Google News.