Hazza inaugurates Idex official conference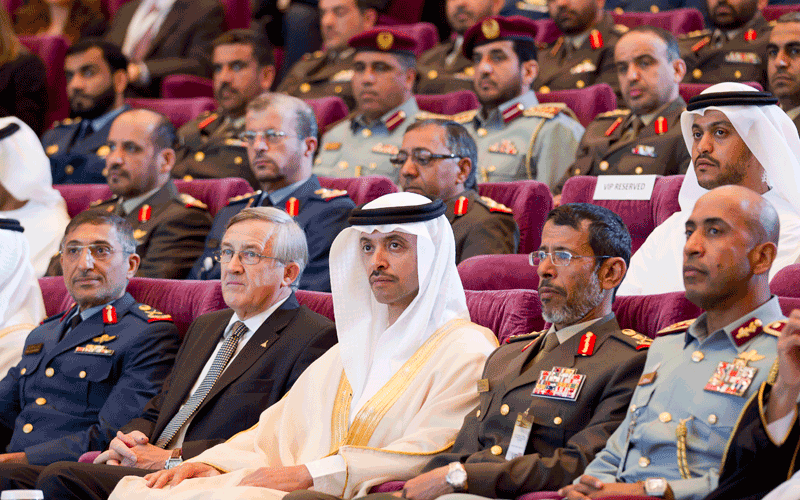 Sheikh Hazza bin Zayed Al Nahyan, National Security Advisor and Vice-Chairman of the Abu Dhabi Executive Council, inaugurated the Gulf Defence Conference (GDC) Saturday morning at the Abu Dhabi Armed Forces Officers Club.
This year, the Gulf Defence Conference addresses emerging threats and novel technologies involved in GCC defence and security industry, through a series of plenary sessions and keynotes delivered by industry experts and leading political figures.
There are more than 400 delegates including members of the official delegations visiting Idex 2011, senior military officials, and key industry partners from across the GCC.
Major General (Ret) Khaled Abdullah Al Bu Ainnain, President of Inegma, welcomed the attendees and highlighted Inegma's goals in organising events such as the GDC: "We are meeting our friends and allies to share ideas and views on how we overcome the threats of today. Modern nations with booming economies like the UAE must be sure their militaries are modern and well maintained. The UAE military reflects the modernity and progress our nation has achieved on the national level."
In a keynote address, Major General Essa Saif Mohammed Al Mazrouei, Deputy Chief of Staff of the UAE Armed Forces, spoke on the industry importance and diplomatic significance of the GDC and Idex: "GDC has significant importance with the presence of the highest and most eminent security experts working on the national and international levels.These events have become central forums for scholars, elites and leaders in studying the modern defence landscape - reflecting the wise guidance of Abu Dhabi's and the UAE's leadership and the close relationships of the UAE with its allies and partners."
Gerald Howarth MP, UK Minister for International Security Strategy, delivered his vision for greater international cooperation and highlighted the enduring connection between Britain and the UAE during the second keynote address: "We in Britain want to build strong, reliable, and enduring strategic partnerships throughout the Gulf - strengthening existing alliances, and promoting alliances with new, important allies.
The United Kingdom has a long historical connection with the UAE, and with the Arabian Gulf more generally. Over many years, our bonds of friendship, understanding, and respect have grown and endured - through good times and bad." As the morning continued, the diplomatic tone of the keynote addresses shifted to focus on the role of modern technology within the evolving defence landscape.
Lieutenant General Markku Koli, Chief of Staff, Finnish Defence Command, said: "For the past 2000 years, war fighting has been dominated by physics - by the number of troops and equipment. Now militaries are moving beyond platform-centric operations as much of our aircrafts, tanks and ships have become much more dependent on integrated n
Follow Emirates 24|7 on Google News.