Improving healthcare and education are top priorities: Mohammed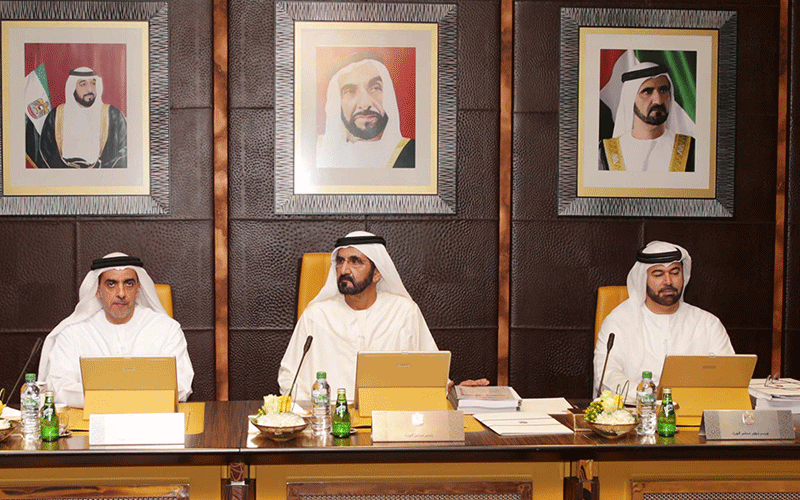 The UAE Cabinet, presided over by His Highness Sheikh Mohammed bin Rashid Al Maktoum, Vice President and Prime Minister of UAE and Ruler of Dubai, has discussed means to improve healthcare services in the UAE as well as training public school teachers.

Boosting both healthcare and education sectors constitute a cornerstone of the government's strategy to provide the best quality that benefits both Emiratis and residents.

His Highness Sheikh Mohammed bin Rashid Al Maktoum said: "The healthcare and education sectors witness rapid changes globally. Under the leadership of my brother, President His Highness Sheikh Khalifa bin Zayed Al Nahyan, we aim to cope with and improve quality public services, especially in education and health, continuously. Creating the proper environment for our people and all residents is our major priority."

Sheikh Mohammed bin Rashid added, "Improving healthcare and education services in the UAE will not stop as they are a priority for the lives of the people, and will receive our utmost attention. Quality and innovation should be cornerstones in healthcare and education systems and we want them to be the top systems globally that will ensure happiness for all."

The Cabinet discussed setting up a national programme to evaluate public hospitals and clinics by introducing a number of criteria to measure quality of healthcare services and build a unified database that will help develop policies and strategies to improve services. The evaluation criteria will include measuring waiting time, patient satisfaction, staying-in duration, percentage of surgery success and publishing customer feedback surveys to the public.

Meanwhile, the Cabinet reviewed a proposal to found a specialised on-going training programme for public school teachers to improve the educational environment, and develop specific skill sets that will help enhance the learning process in schools.

On another topic, Cabinet members approved the setting up of the International Forum for Halal Certification Bodies to be based in Dubai, which aims to regulate the industry that is booming around the world, as well as introduce an inspection mechanism that safeguards customers' rights and industry promotion.

The Forum will help in building confidence in halal-certified food and non-food products in the world, ensure and facilitate trade movement in the Halal industry and boost cooperation among regional and international organisations. Hosting the International Forum for Halal Certification Bodies in the UAE reflects the government's efforts to be a global reference point in Halal certification products as well as enabling legislation.

Regarding the environment, the cabinet signed off an initiative to use energy-saving lamps to light up the country's federal streets. In addition to saving energy, the initiative is aimed at protecting the environment, sustaining natural resources and developing a sustainable infrastructure by using environment-friendly technologies that reduce light pollution, save money and ensure safety.

The Cabinet discussed the energy and climate-change file of the UAE, having taken part in the Paris Climate Change conference late last year, as well as a report on Abu Dhabi Sustainability Week that will take place this month.

Addressing legislative matters, the Cabinet endorsed the issuing of executive regulations of the Federal Law No. 14/2014 on combatting communicable diseases, which sets out measures on how to report a case of communicable disease, and measures to be taken if an infection is detected in animals that infect humans. It also highlights setting up a border medical control unit and measures to deal with different scenarios to protect public health.

Reviewing organisational issues, the Cabinet approved the restructuring of the board of the Emirates General Petroleum Corporation, chaired by Obaid Humaid Al Tayer, Minister of State for Financial Affairs.

On the international level, the Cabinet ratified a number of international agreements to boost economic and technical cooperation.

The UAE Cabinet meeting was held at the Presidential Palace and was attended by Lt. General Sheikh Saif bin Zayed Al Nahyan, Deputy Prime Minister and Minister of the Interior and Sheikh Mansour bin Zayed Al Nahyan, Deputy Prime Minister and Minister of Presidential Affairs.


Follow Emirates 24|7 on Google News.