'Innovation lies in people - not technology'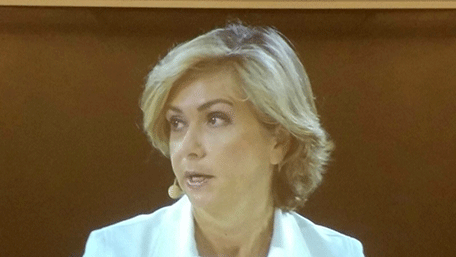 Anja Wyden Guelpa, Chancellor of State, republic of canton of Geneva, Switzerland
Session: Innovative Thinking for Tomorrow's Cities
Moderator: Ulysse Gosset, Foreign Affairs Columnist, BFM TV France
Speakers
Valerie Pecresse, former Minister. France
Anja Wyden Guelpa, Chancellor of State, republic of canton of Geneva, Switzerland
Pascal Sourisse, Senior Executive, VP, International Development, Thales, France
Omran Sharaf, Emirates Mars Mission Project Manager, Mohammed Bin Rashid Space Centre, UAE
Prof Yaka Ishikura, professor Emiretus, Hitotsubashi University, Japan
Valerie Pecresse:
Our region is known to be innovative. I do this by continuously improving on infrastructure. My first mission is to have fiber optics everywhere.
First improve telecommunication networks, next comes transportation - that is a great enabler. If we need to achieve more productivity and wellness then transportation and housing are very important. Next is Data. Hospitals for example or some services are fully booked. Nobody knows in real time where there is space and where there is not. But I have all the data and can find out where to go and where not to. Therefore making this info available to the public is very important.
As a woman it is different. It is important to be part of the new generation - to be longing to innovate and be part of it. But being a woman, I am keen on its consequences in daily life.
Anja Wyden Guelpa:
In my experience, the key of innovation does not lie in technology. It lies in people, their passion and involvement. It's crucial for us to modernise public administration and deliver service that meets citizens' expectations.
A levels of process means fighting policy issues, defining solutions and implementing them. There needs to be the courage to build transparency and trust. Switzerland is the most direct democracy in the world. If you take an average person he/she will vote 385 times in his/her life. Online voting enables people to vote from anywhere. We had the first ballots in Europe in 2003.
Even if you had the best tech tools, what's the use if people won't vote. Young people vote 15 times less on an average compared to the old. When I say old I mean those in the age group of 60s and 70s.
Transparency is key to build trust between state and citizens. We have to empower our people, our citizens. We have to create openness and allow employees to innovate and take risks.
Omran Sharaf:
Explaining about the Mars mission, he says Mars mission to reach its destination by 2021 in line with UAE's 50th anniversary. Going to Mars is just a mean to achieve bigger vision. The youngsters in the region have a lot of energy and we need to channelize this energy into the right streams. If not it can go into dangerous hands.
The international space station is the perfect example of a smart city.
The only way to reach there is rocket and everything there is smart. The challenges that space creates really pushes us to the limits or the boundaries. In our centre, we are all Emiratis and more than 41 per cent are women. In Emirates Mars Mission, I have eight deputies – three are women. They have earned their positions.
Prof Yaka Ishikura:
Physical proximity takes a lot of prominence in innovation. Cities are much easier to be managed. The ranking of cities comes from Japan. Top ten are London, New York, Paris, Tokyo and Singapore etc. Each city has unique characteristics. I don't think women issues are ever included in discussions in the ranking of cities. Innovation comes from different ideas.
Therefore, it is important to empower women. Women tend to be much more down-to-earth and know how everyday life is done. There will be a competition between mega cities rather than between a city and a state.
Pascal Sourisse
I am very happy to talk about Mexico City. It is the third largest in the world with 22 million people spread over 5,000sqkms. 22,000 cameras on streets and metros are connected. All managed by one main citywide centre. This systems brings alarms directly to police, firecrews and emergency.
In case of emergency, what it does is reduce crime rate by more than 30 per cent.
In case of an accident somewhere, if the response time is quick it can save lives. However it is not just about enabling technology. It is about working closely with all stakeholders and use large amount of data and internet connect systems and optimise all of these. How to deal with all this data is very important.
Big data analytics will result in readable, relevant data. Also important is simulation of human behavior. Cyber security is very important to work in anticipation and detect an attack and react quickly in case of an attack.
Smart mobility is another domain where we operate. A multi agency command and control system is very important.
Question & Answers:
Is Europe capable of disruptive innovation?
Valerie says yes. The coming years will have not just trains but driverless busses. It means better security for women and cheaper transport. In France we have just 5 per cent renewable energy but in 10 to 20 years we will have 25 per cent.
Any thoughts on incorporating education or smart education into smart city planning?
Valerie says education is the key. The key of education is not in technology.
Anja says technology is just one part. What I am doing in Geneva is creating political rights among children – reconnect with them. If children do not get that passion then it will get lost. We have very concrete plans.
Omran says our own mission is deeply involved in education - preparing for creating Emirati scientists and programme for teachers and students as well.
Pascal says it is important to understand how to develop new service that are useful for people. The best results you get is when you work with teams. This is also where diversity plays a role. In the end, what matters is diversity. Technology and people go together. When you talk about security systems and police we think people are going to be afraid. Rather the system we have installed in Mexico has brought people together. Because we have brought them security.
Valerie says we spend about 1 billion euro a year on education. My main concern is about unequal access. We have some of the best schools and the worst. The question here is not technology but good teachers
Replying to a query about co-operation among cities, Prof Yaka says the purpose and objective of ranking is to find out where you can make improvement. Best practices need to be shared among cities. Tokyo can learn a lot from London for example. There are a lot of opportunity for co-operation.
Follow Emirates 24|7 on Google News.