Khalifa calls for preserving UAE environment, natural resources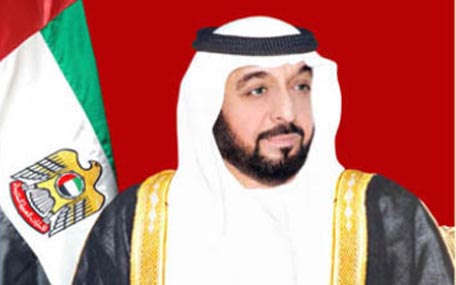 President His Highness Sheikh Khalifa bin Zayed Al Nahyan has called for continuing the efforts of developing a legislative environment that will ensure the conservation of natural resources and regulate the consumption of water and energy.
In a speech on the occasion of the 19th edition of National Environment Day, which is marked on February 4th, President His Highness Sheikh Khalifa also called for launching educational programmes to raise awareness of the importance of the sustainability of natural resources and the use of clean renewable energy for the country's development process and its objectives. The efforts are to "successfully implement the initiative that we launched in 2012 which aims to make our country a leader in the green economy," he said.
His Highness also said on the occasion, which is being held under the slogan, 'The Green Economy: Innovation and Sustainability', "Our country is now blessed with greenery and continues to apply its strategies on conserving the environment and its natural resources, implementing its programmes for water and energy consumption, and increasing its natural reserves to achieve Vision 2021 for a sustainable environment and well-being, inspired by the vision of the late Sheikh Zayed bin Sultan Al Nahyan - an environmental advocate, leader of greenery and founder of sustainable environment - who encouraged agriculture so that it became a way of life in the UAE."
Sheikh Khalifa pointed out, "since the founding of our nation we successfully planted tens of millions of trees, built dams, and reclaimed vast tracts of land to revitalise agriculture."
He said: "We have established 21 onshore and offshore natural reserves, which make up 7% of the UAE land mass, in an effort to preserve wildlife and marine species, reduce pollution, have clean air, and a healthy sustainable environment for future generations to enjoy."
His Highness the President also stressed that "environmental effort is a collective responsibility which requires the participation of everyone who lives in a civilised society," adding that each individual is "an ambassador for the environment and should be keen on ensuring its cleanliness, its sustainability, and work on reducing emissions of polluting gases."
Follow Emirates 24|7 on Google News.