Khalifa meets Mohammed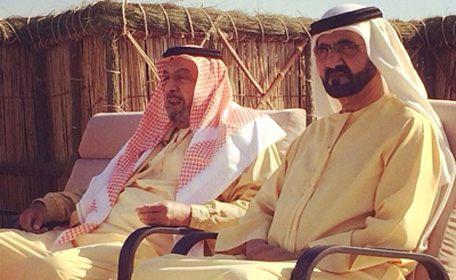 Highness Sheikh Khalifa bin Zayed Al Nahyan, President of the UAE, had a private meeting with His Highness Sheikh Mohammed bin Rashid Al Maktoum, Vice-President and Prime Minister of the UAE and Ruler of Dubai, in Pakistan.
Sheikh Mohammed yesterday uploaded this picture to Instagram account and also wrote a verse honouring and praising the President.
The picture drew much admiration online and followers of Sheikh Mohammed on Instagram posted thousands of comments in praise.
First Class Order of Zayed II on Saudi Ambassador
President His Highness Sheikh Khalifa bin Zayed Al Nahyan has bestowed the First Class Order of Zayed II on Saudi Ambassador to UAE Ibrahim Al Saad Al Brahim in appreciation to his efforts that further enhanced the fraternal ties between the two countries during his tenure in the country.
Sheikh Abdullah bin Zayed Al Nahyan, Foreign Minister, vested the Order on the Saudi envoy when he received him in his office at the Ministry.
The UAE Foreign Minister wished the outgoing Saudi ambassador success in his future tasks, referring to his role in strengthening the relations between the UAE and Saudi Arabia in many fields.
For his part, the Saudi envoy thanked the UAE President, commending his significant regional and international role. He also extended his gratitude to all the public institutions, which cooperated with him, a move he said had great impact in bolstering the relations between the two countries.
Follow Emirates 24|7 on Google News.