Leaders lead retreat in Dubai to map out post-oil future for UAE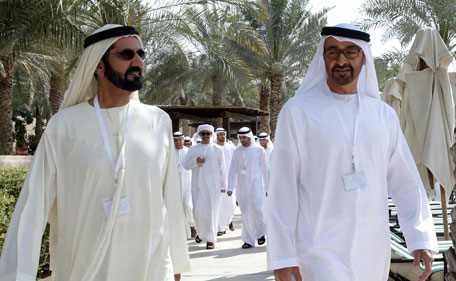 His Highness Sheikh Mohammed bin Rashid Al Maktoum, Vice-President and Prime Minister of the UAE and Ruler of Dubai, and His Highness Sheikh Mohamed bin Zayed Al Nahyan, Crown Prince of Abu Dhabi and Deputy Supreme Commander of the UAE Armed Forces, on Saturday attended a retreat to discuss the UAE's post oil phase.
The retreat which began in the morning will continue today, Sunday, at the Bab Al Shams Resort in Dubai.

Their Highnesses took part in the retreat discussions that aim to develop a comprehensive national programme for a diverse and sustainable economy.

The first day of the retreat began with sessions in which participants looked at the current state of the UAE economy by reviewing the GDP growth rates since 1980, and the contribution of oil and non-oil sectors.
One of the sessions was dedicated to highlighting opportunities for the development of the vital non-oil sectors in the UAE to contribute to strengthening the UAE's position.


Another session discussed future scenarios for the UAE economy highlighting the most important scenarios that could be adopted by the government to make a quantum leap in achieving positive changes in various sectors.
The session also stressed the significance of developing national talents to lead these sectors.

His Highness Sheikh Mohammed bin Rashid and His Highness Sheikh Mohamed bin Zayed took part in the discussions, where four teams were created, with each team comprising a number of ministers, senior officials, and experts to brainstorm and discuss initiatives within each sector.

Lt. General Sheikh Saif bin Zayed Al Nahyan, Deputy Prime Minister and Minister of the Interior, headed a working group on human capital that aims to develop, attract and retain talents, while Sheikh Mansour bin Zayed Al Nahyan, Deputy Prime Minister and Minister of Presidential Affairs, chaired a working group on the economy pillar to discuss building a robust knowledge economy based on technology and innovation.
Sheikh Hamdan bin Rashid Al Maktoum, Minister of Finance, chaired a working group on the government policies pillar that aims to ensure government financial sustainability and utilise government resources to contribute to the UAE's post-oil economy.

Another working group on community was chaired by Sheikh Abdullah bin Zayed Al Nahyan, Foreign Minister, to discuss ways of ensuring the sustainability of social welfare for Emirati families and diversifying sources of income.
Diversified national economy
The UAE economy has shown remarkable resilience and stability driven by the government's flexible economic policies over the past years aimed at diversifying the economy.
In 1980, the UAE's GDP reached Dh555 billion (oil revenue contributed the majority with 79 per cent, and non-oil sectors 21 per cent).
In 2014, the GDP reached Dh1,155 billion (non-oil sectors contributed up to 69 per cent of revenue, while oil sectors contribution was 31 per cent).


The UAE government is working to establish a legal environment that supports economic growth and strengthens the UAE's competitiveness in attracting investments.
The country's non-oil sectors such as manufacturing, government services, infrastructure, and aviation have experienced significant transformation to become the best in the world.
In Pictures... Click to see UAE Ministerial Retreat at Bab Al Shams
Follow Emirates 24|7 on Google News.