Meet the UAE's new Minister of Tolerance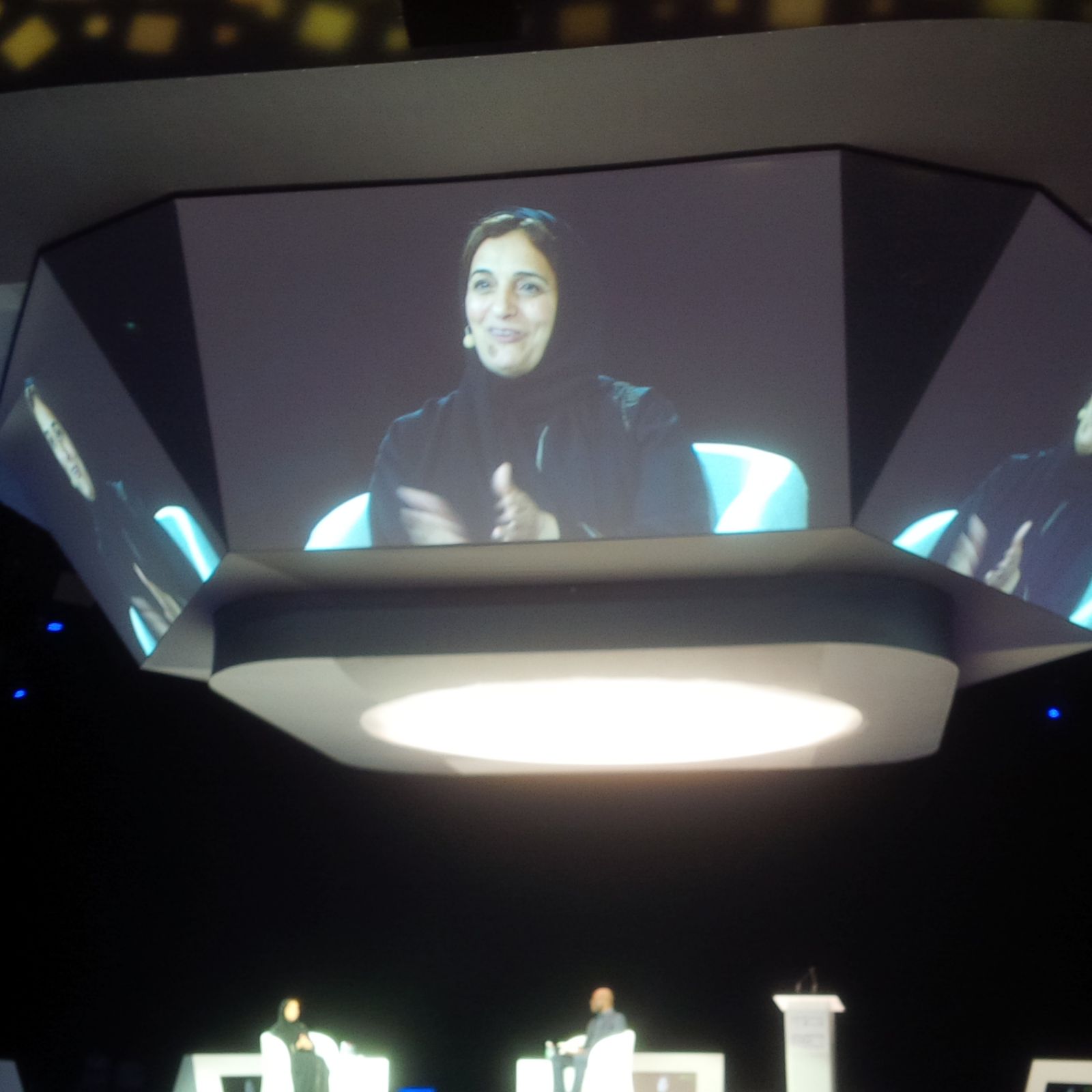 UAE is one of the greatest examples of tolerance, according to the newly appointed UAE Minister of State for Tolerance, Sheikha Lubna Al Qasimi, also President of Zayed University.
Delivering the 'Giving Back' keynote address on the second day of the Global Women's Forum Dubai, Sheikha Lubna said UAE's tolerance is reflected in the weave of the society – both nationals and foreign residents – "everything reflects tolerance".
Sheikha Lubna, who has previously held four ministerial portfolios, and was UAE's first woman minister with the portfolio of Economy, was asked by Henry Bonsu, Broadcaster, Conference Host and Analyst with BBC News, UK, about her new job as Minister of State for Tolerance.
She explained that the UAE has service ministries like Social Welfare, ministries with international roles like Foreign Affairs, policy-making ministries… and then two new and 'odd' ministries were added – those of 'Happiness' and 'Tolerance'.
"But these reflect the values that are integral to all of us. Tolerance is acceptance – accepting and rejoicing differences. We have to be interactive with the community. It is a challenging job, but an exciting ministry. Hopefully we will see great results," Sheikha Lubna said.
What makes the UAE different is its way of life. "Who you are and where you come from is really irrelevant. You can come from anywhere, but when you come here, you integrate – for this is the land of dreams – where enterprise and business is established, careers made.
"The UAE is open and when we talk of issues like gender balance, we talk of all women – nationals and expatriates.
Giving Back
Elaborating on the theme of 'Giving Back', Sheikha Lubna said it's in the national psyche to give back.
Before the UAE was founded, the Abu Dhabi Fund for Development was set up – which "helped development not only for our nations, but for other countries as well.
"In 44 years, UAE has given some US $47 billion to 120 countries mostly in development aid. We are the most generous nation in terms of aid per gross national product.
"Domestically, we have projects, especially in remote areas to provide development.
"Giving is part of the community too. We have talkathons where people contribute millions in a few hours for those in need," Sheikha Lubna said, while commending the Sheikha Manal Initiative on 'Step Up for Girls' Education where Dh1 is donated for every 5 steps a participant takes after downloading the Forum app.
Leadership Concept
Sheikha Lubna said her concept of leadership is "not about power, but about what a leader can give to people. The essence is building loyalty," she said while giving the example of her former CIO whose mother was ill while the project was in a critical stage. She told him to go and be with his mother.
"When he came back after two weeks, she passed away. When I told him to go back, he said he had said goodbye to her already. That was in 2002 and till today – this is 2016 – he is still the most loyal officer I had," she pointed out.
"It is about who you are… are you kind, are you reachable, are you modest. I'm compassionate, but I'm also a tough boss," Sheikha Lubna said.
Early Years
Sheikha Lubna said she grew up as a 'total geek' – but was fully supported by per parents. A science student, in 1975 as a 17-year-old, she wanted to go and study in the US to be a computer engineer. "They let me.
"I studied in UK, the US and Japan, and when I came back I was one of the first Emirati computer engineers. I worked for an Indian engineering firm, sometimes from 8 am to 8pm, on a salary of Dh5,000 per month. It was one of my best experiences," Shekha Lubna said.
She thanked the Forum organisers.
"I have attended the Forum in France. I am elated to finally have it here in Dubai," said Sheikha Lubna.
The Global Women's Forum Dubai 2016 took place at the Madinat Jumeirah from February 23-24, under the patronage of His Highness Sheikh Mohammed bin Rashid Al Maktoum, Vice-President and Prime Minister of the UAE and Ruler of Dubai; and led by Her Highness Sheikha Manal bint Mohammed bin Rashid Al Maktoum, President of the UAE Gender Balance Council, President of Dubai Women Establishment and wife of HH Sheikh Mansour bin Zayed Al Nahyan, Deputy Prime Minister and Minister of Presidential Affairs, UAE. The Forum is organized by Dubai Women Establishment in cooperation with the Women's Forum for the Economy and Society.
Follow Emirates 24|7 on Google News.