Minister, judges take oath before Mohammed bin Rashid, Mohamed bin Zayed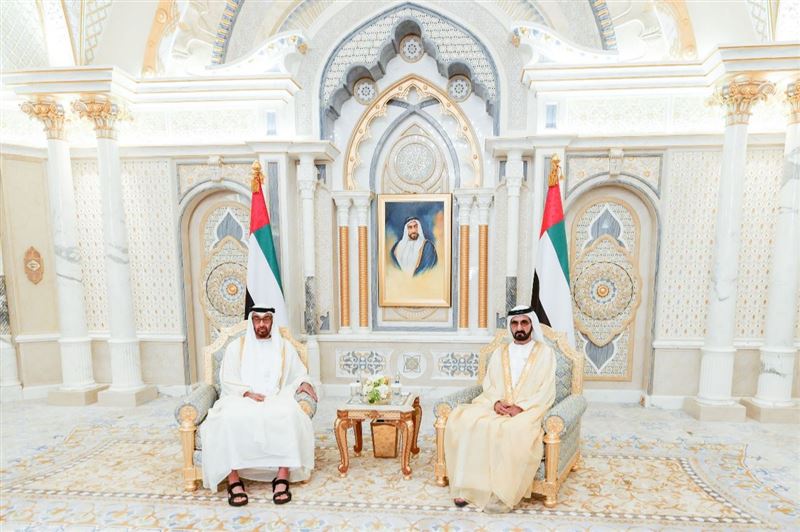 A new minister of the UAE government and two judges took the oath today before His Highness Sheikh Mohammed bin Rashid Al Maktoum, the Vice President, Prime Minister and Ruler of Dubai, and His Highness Sheikh Mohamed bin Zayed Al Nahyan, Crown Prince of Abu Dhabi and Deputy Supreme Commander of the UAE Armed Forces.
Ahmed bin Ali Al Sayegh was sworn in as Minister of State and two new judges, Sabri Shamseddine Mahmoud and Tayeb Abdul Ghafour Al Qadi.
Their Highnesses expressed wishes for success to Al Sayegh as part of his duties to effectively contribute to the development journey of the UAE. They also expressed their well-wishes to Mahmoud and Al Qadi, calling on them to ensure the principles of justice and law enforcement are consolidated.
H.H. Lt. General Sheikh Saif bin Zayed Al Nahyan, Deputy Prime Minister and Minister of the Interior; H.H. Sheikh Mansour bin Zayed Al Nahyan, Deputy Prime Minister and Minister of Presidential Affairs; H.H. Sheikh Abdullah bin Zayed Al Nahyan, Minister of Foreign Affairs and International Cooperation; Sheikh Nahyan bin Mubarak Al Nahyan, Minister of Tolerance, along with a number of ministers and senior officials, attended the swearing-in ceremony.
Al Sayegh and the two judges, expressed their gratitude for the trust shown by the UAE leadership and affirmed their commitment to carry their duties in light of the vision and guidance of the leadership for the development and advancement of the country and achieving its objectives across various endeavours.
Follow Emirates 24|7 on Google News.