Mission possible: Thank-you Dubai, says Ghost Protocol team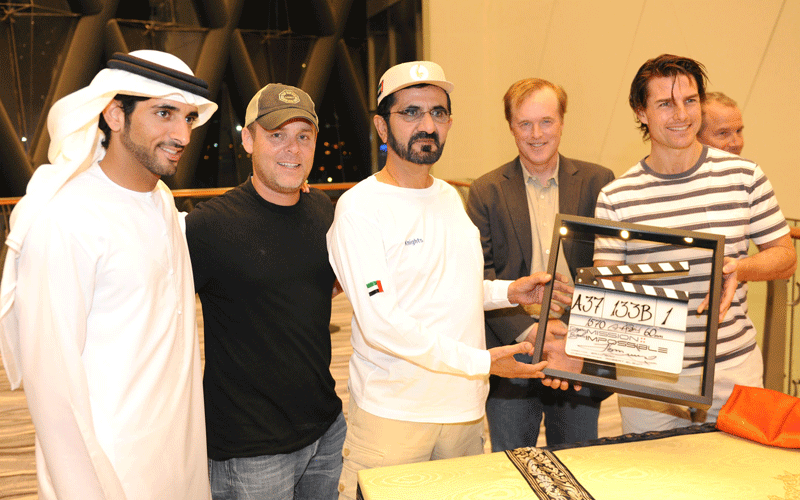 His Highness Sheikh Mohammed bin Rashid Al Maktoum, Vice-President and Prime Minister of the United Arab Emirates and Ruler of Dubai yesterday met the cast and crew of the Mission: Impossible - Ghost Protocol team after they had finished wrapping up their Dubai schedule Sheikh Mohammed said that the UAE highly values innovation and creativity as key catalysts that enrich the human experience He also stated that Dubai spares no effort in supporting innovation in various fields of cultural life, including cinema.
The team wrapped up almost a month of shooting in Dubai, the longest period the team has stayed among other cities to be featured in the film.
The star of the movie Tom Cruise, director Brad Bird and producers Jeffrey Chernov and Bryan Burk, expressed sincere thanks and gratitude on behalf of their team to Sheikh Mohammed for the warm reception and generosity they found in Dubai throughout their stay.
They also praised the ultimate cooperation extended by various Dubai government departments, which made their mission "possible" without any hurdles of delays.
The meeting was attended by Sheikh Hamdan bin Mohammed bin Rashid Al Maktoum, Crown Prince of Dubai, Sheikh Ahmed bin Saeed Al Maktoum, President of the Dubai Civil Aviation Authority and Sheikh Majid bin Mohammed bin Rashid Al Maktoum, Chairman of Dubai Culture and Arts Authority.
As a token of appreciation to Dubai and its Ruler, the film team handed Sheikh Mohammed a "clapper board" carrying signatures of the stars and a director's chair with Sheikh Mohammed's name on it.
A similar token gift was presented to Sheikh Hamdan bin Mohammed, showing gratitude for Dubai's generous hospitality.
Concluding their successful trip to Dubai, the team said that government support, reliable infrastructure, culture diversity and rich variety of shooting locations make Dubai a sought-after destination for international industry professionals aspiring for new filming locations around the globe.
The three previous films in the "Mission: Impossible" series have together generated revenues exceeding US$1.4 billion worldwide.
Follow Emirates 24|7 on Google News.