Mohamed bin Zayed attends inauguration ceremony of Global Centre for Combating Extremist Ideology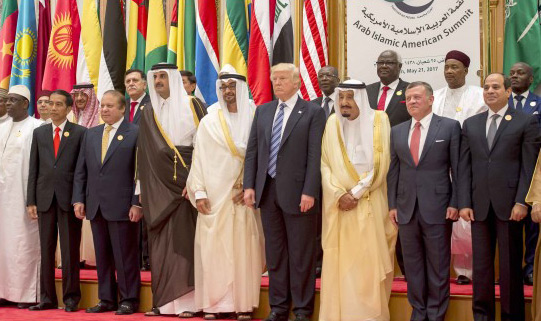 His Highness Sheikh Mohamed bin Zayed Al Nahyan, Crown Prince of Abu Dhabi and Deputy Supreme Commander of the UAE Armed Forces, attended here on Sunday the inauguration ceremony of the Global Centre for Combating Extremist Ideology.
The Centre was opened by the Custodian of the Two Holy Mosques King Salman bin Abdulaziz Al Saud of Saudi Arabia and U.S. President Donald Trump in the presence of Arab and Islamic leaders, on the sidelines of the Arab-Islamic-American Summit.
King Salman, accompanied by the U.S. President and leaders of the Arab and Islamic countries, then headed to the Command and Control Centre to inaugurate the centre. The audience were briefed on how the system works and the Centre's facilities, sections for analysis and monitoring of various ideas and extremist ideologies The countries participating in the summit had chosen Saudi Arabia to be the headquarters of the Centre, which aims to prevent the spread of extremist ideas by promoting tolerance, empathy and supporting the dissemination of positive dialogue. The Centre will also monitor the activities of the terrorist organisations and groups on the Internet.
The Secretary General of the Centre, Dr. Nasser al-Buqami, said, "At the moment we witness more cooperation and strategic partnership to stand up to extremism at all levels. The establishment of the Centre is a continuation of the great effort exerted by the Islamic countries to fight terrorism and extremist thought. This grouping is a high-level conglomerate in this respect. "
He expected potential of success of this Centre given its unprecedented technological gadgets, which will be using innovative software capable of monitoring and analysing any extremist thought in all languages and dialects. He added it will employ more than 350 Saudis.
A short documentary film was screened showing the stages of completion of the project.
Follow Emirates 24|7 on Google News.