Mohamed bin Zayed, German Chancellor discuss bilateral relations, regional, international issues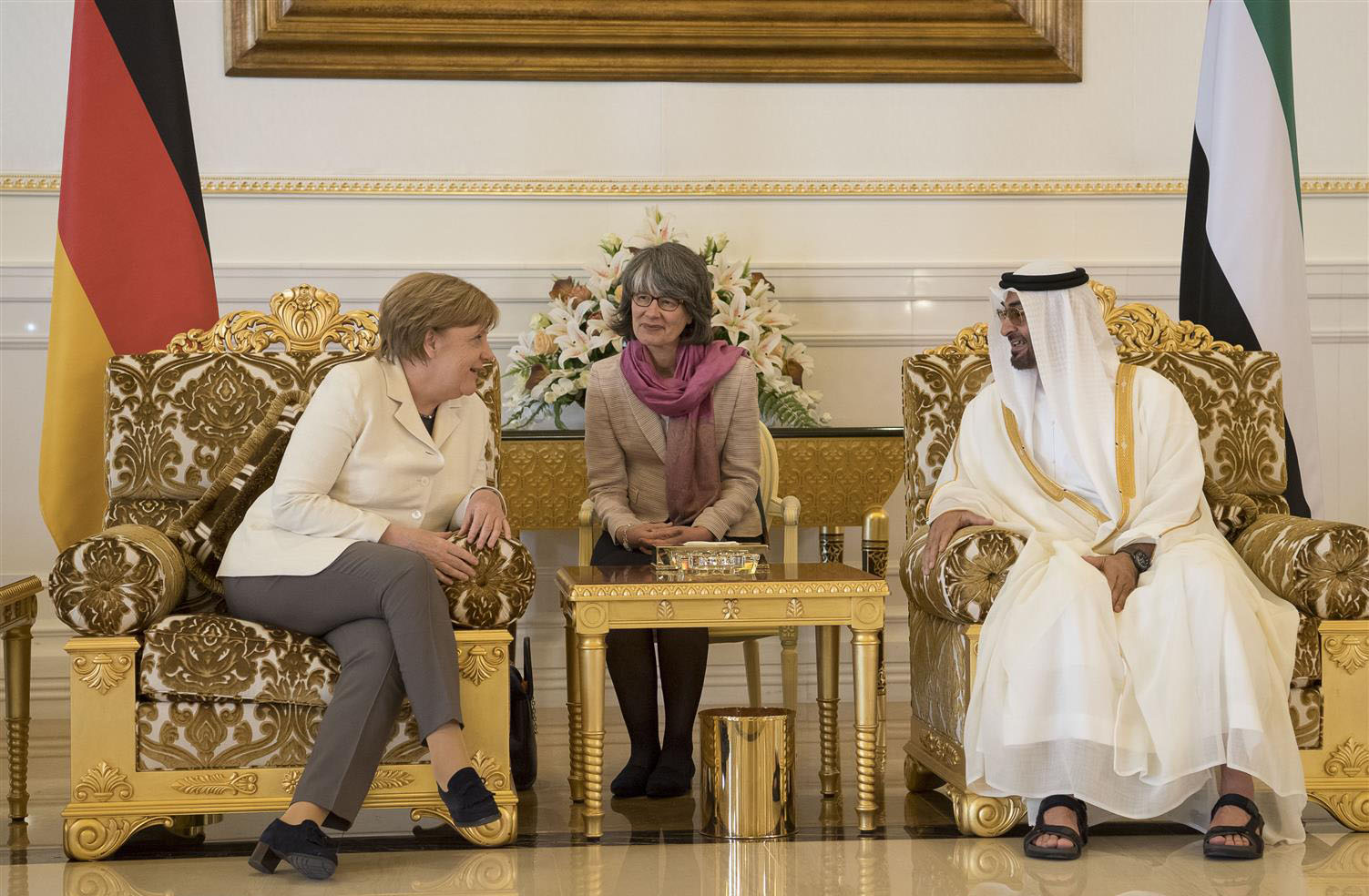 His Highness Sheikh Mohamed bin Zayed Al Nahyan, Crown Prince of Abu Dhabi and Deputy Supreme Commander of the UAE Armed Forces, and Angela Merkel, Chancellor of the Federal Republic of Germany, discussed the promotion of bilateral ties between the two countries, as well as regional and international issues of mutual interest during the talks held here on Monday.
His Highness Sheikh Mohamed bin Zayed welcomed Chancellor Merkel's visit to the UAE, noting that this visit comes within the framework of strong friendship between the people of both countries.
They reviewed during the meeting attended by Sheikh Tahnoun bin Zayed Al Nahyan, National Security Adviser, the bilateral relations covering political, economic and development areas, as well as current partnerships between both countries and the ways to strengthen them.
The two parties addressed the latest regional developments regarding Syria, Libya and Yemen, and the efforts of both countries to combat extremist and terrorist groups, and their mutual co-ordination to support the stability and security in the region.
Sheikh Mohamed bin Zayed briefed Chancellor Merkel about the UAE's vision of a safe, stable and prosperous region.
They discussed developments in the international system and their implications, as well as the need for communication and dialogue among major international players to agree on a positive understanding to support global peace and stability.
The Crown Prince of Abu Dhabi stressed that the UAE, led President His Highness Sheikh Khalifa bin Zayed Al Nahyan, attaches great importance to its relationship with the Federal Republic of Germany and "is keen to develop and promote this relationship in all areas in the best interest of both countries and their people, while supporting mutual efforts to establish an efficient UAE-German stance to address regional and international instability."
He also called for greater German participation to support stability and development due to the global influence of Germany and Chancellor Merkel, as well as her influential opinions and her wide knowledge of regional and global matters.
"The UAE-German relations are well established and based on a close partnership that reflects the belief of both countries about their mutual importance, and the need to provide institutional frameworks for consultation, dialogue, understanding and joint action to develop ways of enlarging the scope of their mutual interests, while investing in potential of co-operation and achieving greater political, economic, cultural and security understanding," Sheikh Mohamed said.
The UAE is the first trade partner of Germany in the Gulf and Arab region. The volume of trade exchange between the two countries stood at US$16 billion, and was increasing due to economic and trade co-operation that provide great potential and incentives, especially in technology, space, renewable energy, tourism and other areas.
The meeting was attended by Dr. Anwar bin Mohammed Gargash, Minister of State for Foreign Affairs; Ali bin Hammad Al Shamsi, Deputy Secretary-General of the Supreme National Security Council; Khaldoon Khalifa Al Mubarak, Chairman of the Executive Affairs Authority; Ali Abdullah Al Ahmad, UAE Ambassador to the Federal Republic of Germany; Mohamed Mubarak Al Mazrouei, Under-Secretary at the Crown Prince Court of the Abu Dhabi, and the accompanying delegation to Chancellor Merkel.
Follow Emirates 24|7 on Google News.