Mohamed bin Zayed, Hamdan bin Mohammed attend first 'Walk Unified' event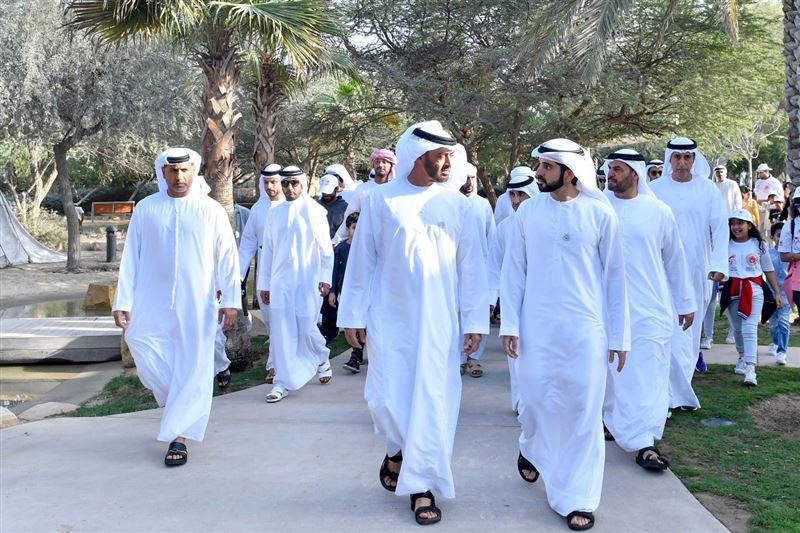 His Highness Sheikh Mohamed bin Zayed Al Nahyan, Crown Prince of Abu Dhabi and Deputy Supreme Commander of the UAE Armed Forces and H.H. Sheikh Hamdan bin Mohammed bin Rashid Al Maktoum, Crown Prince of Dubai and Chairman of Dubai Executive Council, inaugurated the first-ever Special Olympics "Walk Unified" event this afternoon.
Hundreds of people from different backgrounds participated in "Walk Unified", an organised walk launched by the Local Organising Committee (LOC) of Special Olympics World Games Abu Dhabi 2019 to integrate people of determination who have intellectual disabilities in community events.
H.H. Sheikh Mohamed was keen to participate with his children and grandchildren in the community initiative and expressed his happiness at taking part alongside people of determination, volunteers and the public as it encourages everyone to adopt a healthy lifestyle and brings communities together. He commended the volunteers and their excellent efforts in supporting the organisation of these initiatives and mentioned that "volunteering is a moral value and a human instinct that reflects the community's essence, its generosity and goodness."
"Our children are raised with these values that are innate within UAE society and we are working to reinforce them through national projects and initiatives such as "Walk Unified" which brings communities together in the spirit of inclusion and encourages people to volunteer", His Highness added.
He pointed out that adopting a healthy lifestyle is a habit formed at a young age and it is a principle that should be taught to future generations as they grow, highlighting the important role of schools and families in establishing these values through practicing sports, which plays a vital role in building a strong mind for individuals and societies alike.
Walk Unified is a weekly event leading up to the Special Olympics Regional Games, that will take place every Friday from 3 – 6pm in Umm Al Emarat Park. The event aims to bring local communities together by encouraging a healthy lifestyle and inclusiveness for people of all abilities.
H.H. Sheikh Nahyan Bin Zayed Al Nahyan, Chairman of the Board of Trustees of Zayed bin Sultan Al Nahyan Charitable and Humanitarian Foundation and Chairman of the Abu Dhabi Sports Council, H.H. Sheikh Khalid bin Mohamed bin Zayed Al Nahyan, H.H. Sheikh Dhiyab bin Mohamed bin Zayed Al Nahyan, Chairman of the Transport Authority, H.H. Sheikha Al Jalila bint Mohammed bin Rashid Al Maktoum, Dr. Ahmed Al Mazrouei, Secretary General of Abu Dhabi Executive Council and Mohammed Jaber Al Suwaidi, Director General of the Abu Dhabi Crown Prince's Court, also attended the first "Walk Unified" event.
Mohammed Abdullah Al Junaibi, Chairman of the Higher Committee of Special Olympics World Games Abu Dhabi 2019, thanked H.H. Sheikh Mohamed bin Zayed, H.H. Sheikh Hamdan bin Mohammed Bin Rashed Al Maktoum and all esteemed guests for taking part in the first-ever event of the initiative, emphasising that His Highnesses' participation reflects the importance of the upcoming humanitarian Games as Abu Dhabi prepares to host Special Olympics IX MENA Games on 14-22 March and Special Olympics World Games in March, 2019.
Al Junaibi invited all members of the community to participate in various initiatives taking place across the UAE as the capital prepares to host the world's biggest humanitarian sporting event. The aim of the Games is to empower people of determination through sports, spread the spirit of inclusiveness and tolerance, and to honour the legacy of the late Sheikh Zayed bin Sultan Al Nahyan, God bless his soul and his vision, for his leading role in spreading peace and harmony around the world.
Follow Emirates 24|7 on Google News.