Mohamed bin Zayed offers condolences on UAE martyrs Al Tunaiji, Al Mazrouei- Final Add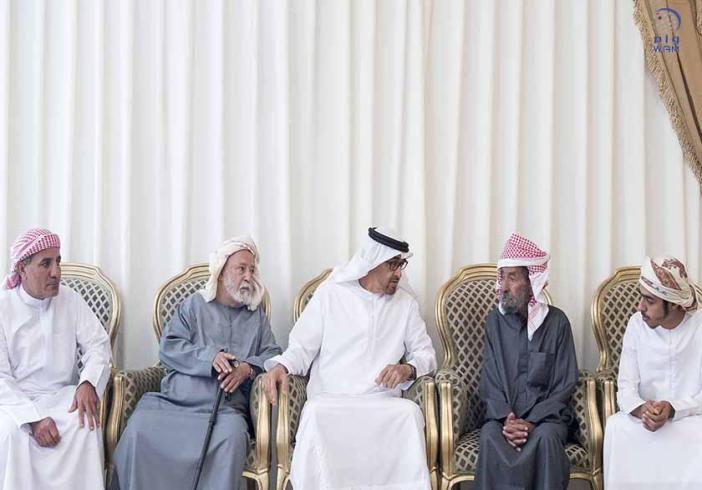 His Highness Sheikh Mohamed bin Zayed Al Nahyan, Crown Prince of Abu Dhabi and Deputy Supreme Commander of the UAE Armed Forces, has paid his respects on the nation's martyrs Ahmed Abdul Rahman Al Tunaiji and Ahmed Rashid Al Mazrouei.
The two martyrs, along with other compatriots, were on a humanitarian mission when they were killed in the terrorist attack on the headquarters of the Kandahar Governor in Afghanistan.
While visiting the mourning majlises of martyrs Al Tunaiji in Al Rams district in Ras al-Khaimah, and Al Mazrouei in Al Helo district, Sharjah, the Crown Prince of Abu Dhabi extended his heartfelt condolences to the families and relatives of the two martyrs.
Sheikh Mohamed bin Zayed said the UAE, led by President His Highness Sheikh Khalifa bin Zayed Al Nahyan, would continue assisting the needy peoples in line with its values of giving and sacrifice. "The cowardice and treacherous acts will not deter us from extending a helping hand to those in need," he added.
The finest young Emiratis who were killed in Afghanistan will remain as living role models in terms of devotion to humanitarian work, sense of duty, loyalty and love, Sheikh Mohamed said.
"Our martyrs were carrying the message of love and peace to the friendly people of Afghanistan. They had been providing aid to the poor, widows and orphans to paint the smile on their faces. This has been and still the legacy of the UAE leadership and people. Our hands will be extended wherever needed. It is an honour, love and commitment," he added.
Sheikh Mohamed underlined that the terrorists, murderers and other haters do not want good for others as they are deprived of humanity and religious teachings that promote philanthropy and charity. He paid a rich tribute to the relatives of the martyrs who stood firm, reflecting the authentic UAE values in such situations.
He also prayed to the Almighty Allah to rest their souls in peace and bestow solace on their families.
Sheikh Khalifa bin Tahnoun Al Nahyan, Director of The Martyrs' Families' Affairs Office and Mohammed Mubarak Al Mazrouei, Under-Secretary of Crown Price Court of Abu Dhabi, also offered their condolences, along with Sheikh Mohamed bin Zayed.
Follow Emirates 24|7 on Google News.