Mohamed bin Zayed visits Emirati patients in Seoul hospital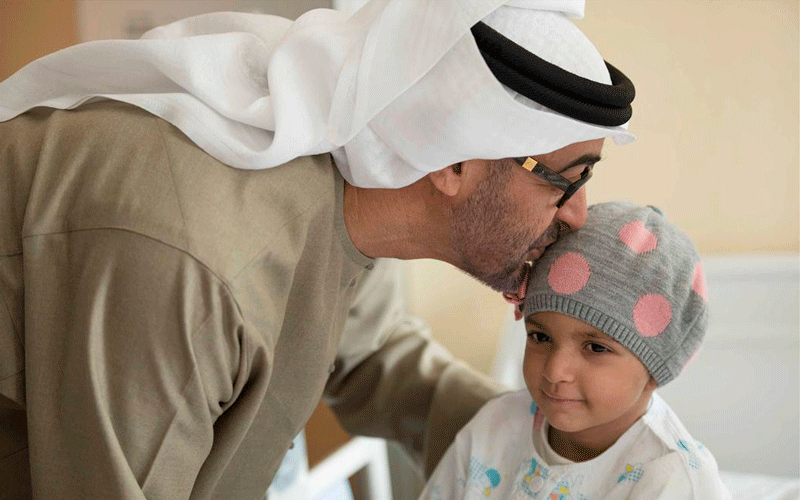 General Sheikh Mohamed bin Zayed Al Nahyan, Crown Prince of Abu Dhabi and Deputy Supreme Commander of the UAE Armed Forces, at the start of his visit to South Korea, has visited a number of UAE citizens receiving medical treatment at St. Mary's Hospital in Seoul.

Upon arrival at the hospital, Sheikh Mohamed and his entourage were welcomed by Minister of Health, Moon Hyungpyo and a number of senior hospital managers. The hospital is world leading provider of eye care and Bone Marrow Transplantation (BMT) to leukaemia patients.

Sheikh Mohamed met the patients and attending doctors and was assured of progress of their treatment. He assured them of the keen interest of the President His Highness Sheikh Khalifa bin Zayed Al Nahyan to follow up on the health and wellbeing of citizens. The Crown Prince of Abu Dhabi wished the patients a speedy recovery and safe return back home.

''We have nothing of greater value than our human resources who are our present and future and the backbone of development. We will spare no effort to provide treatment to our patients either through our health facilities or by sending them to world-class foreign hospitals,'' Sheikh Mohamed said.

For their part, the patients expressed their extreme happiness at the visit of Sheikh Mohamed, which they said had painted a smile on their face. They thanked Sheikh Mohamed for his noble, human gesture and prayed to Allah to protect the President His Highness Sheikh Khalifa bin Zayed Al Nahyan and bestow good health upon him.

Visit to National Museum of Korea

Sheikh Mohamed bin Zayed also visited the National Museum of Korea in Seoul.

It is the largest museum in Korea and houses precious Korean cultural assets that silently tell the story of Korea's fascinating history, from ancient days to the modern era.

In addition to galleries with a wide array of national and international pieces, the National Museum of Korea is the stage for a number of cultural activities related to collection and preservation of relics, research and analysis, social training, academic publications, international cultural exchange programs, concerts, and more.

Dr. Kim Youngna, Director-General of the National Museum of Korea, briefed Sheikh Mohamed on the museum's pavilions and all its exhibits which have historical and archaeological significance for Koreans.

The National Museum of Korea is the cultural foundation that represents Korea, and has been designed in a manner wherein its left side symbolises the past and the right side represents the future.

The museum conducts studies and research in antiquities, history, and art. It also organises numerous exhibitions and educational programmes.

Sheikh Mohamed, who was accompanied by Sheikh Hamed bin Zayed Al Nahyan, the Chief of Abu Dhabi Crown Prince's Court, visited a number of the lower pavilions that showcased artefacts such as old, large stone bells used in Korean villages and cities of the past, in addition to gold artefacts and other precious metals dating back to the sixth and seventh centuries and occupy an ideological and heritage status in the hearts of Koreans.

Sheikh Mohamed was also briefed on the model of the old Korean house where different types of wood and timber were used, in addition to other components of the local environment, which still keeps the old and traditional style of houses in many Korean cities.

He also viewed models of gold jewellery dating back to previous centuries.

The accompanying delegation also included Suhail bin Mohammed Faraj Faris Al Mazrouei, Minister of Energy, Khaldoon Khalifa Al Mubarak, Chairman of the Executive Affairs Authority, Nasser Ahmed Al Sowaidi, Chairman of Department of Economic Development, Sheikh Sultan bin Hamdan Al Nahyan, Adviser at the Ministry of Foreign Affairs and Director of the Department of East Asia and Pacific, Mohamed Mubarak Al Mazrouei, Under-Secretary of the Crown Prince's Court, Abdulla Nasser Al Suwaidi, Director-General of Abu Dhabi National Oil Company and Saeed Ali Yousef Al Nowais, U.A.E. Ambassador to Japan.

Mohamed bin Zayed meets UAE students in Korea

Sheikh Mohamed bin Zayed met on Thursday with UAE engineers and students attending graduate, post-graduate and training programmes at South Korean universities and technical institutes.

Sheikh Mohamed, who was accompanied by Sheikh Hamed bin Zayed Al Nahyan, Chief of Abu Dhabi Crown Prince's Court, conversed with the UAE students and interns about their specialisations.

''We are proud to see you in Korea gaining knowledge and training in prominent educational institutes for the transfer of rich expertise in advanced industries and technological programmes to their homeland so as to contribute to nation building and progress. You are up to our expectations and you are our real assets,'' Sheikh Mohamed said addressing the students.

''The UAE, under the leadership of the President His Highness Sheikh Khalifa bin Zayed Al Nahyan, pins high hopes and aspirations on the advanced knowledge-armed generations like you," Sheikh Mohamed said, adding that "Emirati human beings have been, and will always remain, the key focus of strategic plans and it is not strange that well-qualified, cultural and scientific human resources receive the top priority of the leadership.

''We stay the course of the late founding father, Sheikh Zayed bin Sultan Al Nahyan, in paying proper attention and care to education. It is the same approach that President Khalifa is following in qualifying national human resources and grooming them for addressing the prerequisites of the present and challenges of the future,'' he added.

Emirates Nuclear Energy Corporation's (Enec) training and development programme has been running since the company's inception in 2009, and aims to attract and train the country's most talented science students, engineering graduates and experienced professionals to provide them with an opportunity to become pioneers of the emerging nuclear energy sector. To date, Enec has sent more than 300 Emirati engineers for on-job training programmes in Korea. It has also sent 115 students to study for higher diplomas in nuclear technology. A group of UAE students are currently undergoing professional training on the basics of maintenance, support operations and basic engineering, which they will complete by May 2014.

Currently, 100 engineers are undergoing the Reference Power Plant (RPP) programme in South Korea.

The Emirates Nuclear Energy Corporation (Enec) is the federal authority responsible for building and operating the first UAE nuclear power plant. By 2020, Enecc is expected to have a pool of 2000 professionals. It has developed a unique scholarship initiative to provide UAE nationals with an unparalleled opportunity to be a part of what is expected to be a cornerstone of the UAE's power supply industry for decades to come.



Follow Emirates 24|7 on Google News.