Mohamed bin Zayed visits those injured in Kandahar terror attack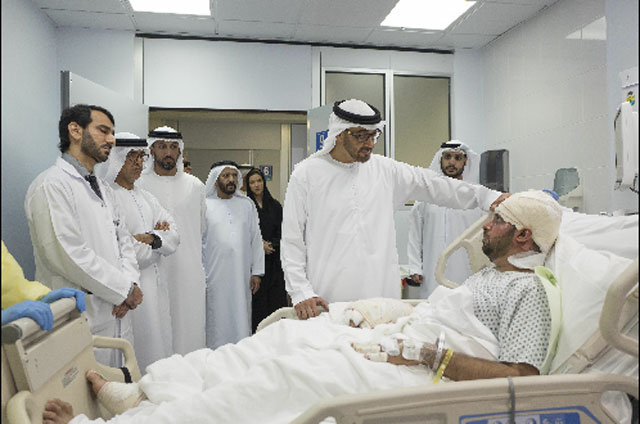 His Highness Sheikh Mohamed bin Zayed Al Nahyan, Crown Prince of Abu Dhabi and Deputy Supreme Commander of the UAE Armed Forces, stressed the UAE, led by President His Highness Sheikh Khalifa bin Zayed Al Nahyan, would not deviate from the path and the firm approach to serve humanity.
His Highness Sheikh Mohamed bin Zayed made the comment on Saturday when he was visiting those injured in the Kandahar terrorist attack, resulting in the martyrdom of several Emiratis while others were injured even as they were carrying out the UAE's humanitarian, charitable and developmental mission for the friendly people of Afghanistan. The injured are receiving medical treatment at Mafraq Hospital.
"Provision of support and humanitarian aid for others is one of the main cornerstones of the UAE so far since its establishment, and such criminal acts resulting from treachery and hatred would not undermine the determination of the UAE people to continue the march of giving and spread of security and peace," His Highness Sheikh Mohamed said.
He added that Emiratis have proved during hardships their steadfastness, strength and determination to meet the challenges courageously. He also expressed his pride at the sacrifices of the people of the UAE who achieved glory and dignity by serving their homeland.
The Crown Prince of Abu Dhabi was reassured about the condition of Juma Al Kaabi, the UAE Ambassador to Afghanistan, UAE diplomat Mubarak Al Saedi and Ajmal Assadullah, the Afghan translator.
He also talked with them, their families and the doctors supervising their medical treatment. The doctors briefed him about the nature of their injuries and the medical treatment plans.
Dr. Mugheer Khamis Al Khaili, Chairman of Abu Dhabi Health Authority; Mohamed Mubarak Al Mazrouei, Undersecretary of the Crown Prince's Court of Abu Dhabi, and others accompanied Sheikh Mohamed.
Follow Emirates 24|7 on Google News.