Mohamed receives Australian Premier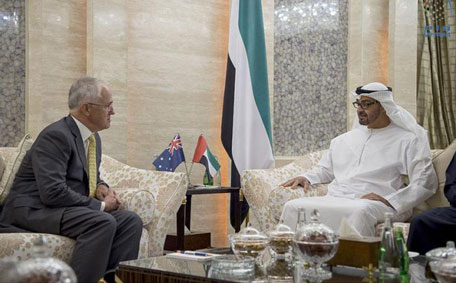 His Highness Sheikh Mohamed bin Zayed Al Nahyan, Crown Prince of Abu Dhabi and Deputy Supreme Commander of the Armed Forces, received at the Beach Palace, Prime Minister of Australia, Malcolm Turnbull, who is currently on a visit to the country.

During the meeting, Sheikh Mohamed welcomed the Prime Minister of Australia, and hoped the visit would further contribute to strengthening cooperation and consolidation of friendship between both countries and peoples in all fields.

The meeting was attended by Sheikh Hazza bin Zayed Al Nahyan, National Security Advisor and Deputy Chairman of Abu Dhabi Executive Council; Sheikh Mansour bin Zayed Al Nahyan, Deputy Prime Minister and Minister of Presidential Affairs; Sheikh Abdullah bin Zayed Al Nahyan, Foreign Minister; and Mohammed Mubarak Al Mazrouei, Under-Secretary of the Crown Prince Court of Abu Dhabi.



Sheikh Mohamed and Turnbull reviewed the growing relations between the UAE and Australia, focusing on trade, economic and investment fields.

The two sides stressed the interest of the leaders of the two countries in boosting closer friendship and cooperation that would contribute to the promotion of development process to wider horizons of bilateral relations between the two countries.

They also discussed cooperation in renewable and clean energy issues, and efforts to launch and expand projects and initiatives in these areas.

Sheikh Mohamed and Turnbull also touched on water and food security, and investment in the agricultural sector and water desalination according to the scientific standards and the latest methods that maintain the ecological balance, with emphasis on the importance of promoting research, development and innovation in these areas and others, with the aim to serve the two friendly countries.

They also tackled open sky between the two countries and heavy air traffic between them that contributed to building constructive and growing relations in many fields.

Sheikh Mohamed and Turnbull exchanged views on the latest regional and international developments, particularly extremism and terrorism and coordination between the two countries in the fight against terrorist organisations to achieve stability and peace in the region.


They emphasised the importance of intensifying cooperation among world countries to fight the organisations that threaten international peace and security, and to find peaceful solutions to the crises experienced by the region.

Among others present from the Australian side were General Mark Binskin, Chief of Staff of the Australian Defence Forces and Arthur Spiro, Australian Ambassador-designate to the UAE and a number of Australian officials.
Follow Emirates 24|7 on Google News.