Mohamed receives King of Jordan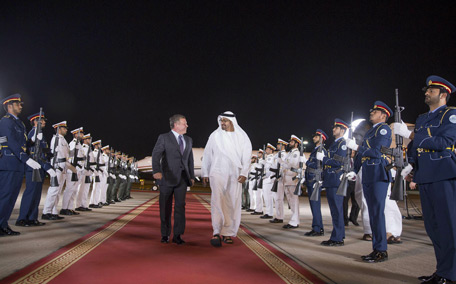 His Highness Sheikh Mohamed bin Zayed Al Nahyan, Crown Prince of Abu Dhabi and Deputy Supreme Commander of the UAE Armed Forces, on Sunday received King Abdullah II of Jordan who is on a visit to the UAE.
The pair discussed ways of promoting and enhancing existing close relations between the UAE and Jordan in various spheres to serve the common interests of the two fraternal countries and their peoples.
They also examined a number of major issues of common concern for both countries, cooperation in fighting extremism, violence, terrorism and terror organisations and promoting peace and stability in the region.
Sheikh Mohamed bin Zayed and King Abdullah II stressed that fraternal relations between their two countries are strong and expressed their common interest in furthering these relations in various areas.
They stressed the common interest in bolstering and promoting UAE-Jordanian bilateral relations to new avenues of joint cooperation and action.
During the meeting, they also discussed the developments in the region and highlighted the importance of continued coordination and consultations between the two countries about various developments. They also highlighted the need to counter challenges facing countries of the region and including, in particular, combating terrorism and terrorist organisations as part of pan-Arab action so as to strengthen the security and stability of the region's countries and peoples.

Also present at the meeting were Sheikh Tahnoun bin Zayed Al Nahyan, National Security Advisor; Sheikh Khalid bin Mohamed bin Zayed Al Nahyan, Chairman of the State Security Department; Ali bin Hammad Al Shamsi, Deputy Secretary-General of the National Security Council; Mohamed Mubarak Al Mazrouei, Under-Secretary of Abu Dhabi Crown Prince Court; and Lt. General Isa Saif bin Ablan Al Mazrouei, Deputy Chief of Staff of the UAE Armed Forces, and other officials.

Mohamed honours eight remarkable winners of Abu Dhabi Awards
Sheikh Mohamed bin Zayed with the Abu Dhabi Award winners at Emirates Palace. Seen are (L-R) Dr Ghassan Hasan Al Hasan, Dr Lihadh Ibrahim Al Gazali, Dr Anwar bin Mohamed Gargash, UAE Minister of State for Foreign Affairs, Dr Adnan Muzahem Al Pachachi, Mai Mohamed Khalaf Al Mazrouei (on behalf of her late father Mohamed Khalaf Al Mazrouei), Deborah Henley (on behalf of her late mother Susan Hillyard), Dr Aysha Sultan Al Dhaheri, and Dr Ayesha Musabbah Almemari (Wam)

Eight extraordinary individuals were recognised on Sunday for their generous and worthwhile deeds at the Abu Dhabi Awards ceremony, which also celebrated the ten-year anniversary of the Awards.

Held under the patronage of His Highness Sheikh Mohamed bin Zayed Al Nahyan, Crown Prince of Abu Dhabi and Deputy Supreme Commander of the UAE Armed Forces, the Abu Dhabi Awards celebrates compassionate individuals who have selflessly given their time to build and support the community of Abu Dhabi.
During the Awards ceremony, Sheikh Mohamed presented the Awards and personally congratulated each recipient, presenting them with the Abu Dhabi medal and trophy.
The Abu Dhabi Awards was inaugurated in 2005 to celebrate compassionate individuals who have selflessly given their time to build and support the community of Abu Dhabi. The 2015 campaign marked the milestone 10th anniversary of the prestigious Award, which has now so far been awarded to a total of 71 recipients, with more than 100,000 individuals being nominated since the Awards' inauguration.
The winners were honoured for the outstanding contributions they have made to society through their work. Video biographies were shown during the ceremony, showcasing the recipients' good deeds and achievements within the community.
In his improvised speech at the ceremony, Sheikh Mohamed said, "We met here today because we need a good example which all of us and all our children are urged to follow."
Noting that women have a strong presence among the winners of the awards, he said, "Congratulations to them. They deserve them."
"Our generation lived in a difficult period of time. Some of the honourees accompanied the late Sheikh Zayed and his brothers before and after the federation was established until they handed over the responsibility to the second generation."
"Today we have a well-educated generation with a good experience," he said adding that the previous generation was not as lucky but had an outstanding trait. "They were sincere and loyal to their homeland and people. It is the trait that we should learn to build on now as the region is facing challenges."
Sheikh Mohamed added, "It is difficult to see the light down the road, but I am personally convinced that when you have good and sincere intentions this light will get closer and we can achieve positive results. We should always be optimistic regardless of the challenges that we are facing in the Middle East region. We will hand the responsibility, that we took over from the previous generation, over to the next generation and our home will home will continue to enjoy its well-being and glory."
Sheikh Mohamed said, "Today we honoured a group of the country's best people who are good examples in the UAE. This does not mean that the best people are not necessarily Emiratis. The country's best people who have the same traits that our father Zayed had. Among them are these people who are standing now on the podium."
His Highness added, "Those who lived to see our father Sheikh Zayed in the fifty years which have gone by do say our epitome. That is why, and we all remember this, a phrase became very popular here: We are the sons of Zayed. But I hope this expression is used in the right place, the right time and as part of right work."
Also present at the ceremony were Sheikh Hamdan bin Zayed Al Nahyan, Ruler's Representative in the Western Region; Dr. Amal Abdullah Al Qubaisi, Speaker of Federal National Council (FNC); Lt. General Sheikh Saif bin Zayed Al Nahyan, Deputy Prime Minister and Minister of the Interior; Sheikh Abdullah bin Zayed Al Nahyan, Minister of Foreign Affairs and International Cooperation; Sheikh Omar bin Zayed Al Nahyan, Deputy Chairman of the Board of Trustees of Zayed bin Sultan Al Nahyan Charitable and Humanitarian Foundation; Sheikh Khalid bin Zayed Al Nahyan Chairman of the Board of Zayed Higher Organisation for Humanitarian Care and Special Needs (ZHO); Sheikh Nahyan bin Mubarak Al Nahyan, Minister of Culture and Knowledge Development; Sheikh Sultan bin Tahnoon Al Nahyan, Member of the Executive Council; Sheikhs, senior officials and families of the awards winners.
The eight recipients were recognised for a wide range of achievements including medical research, lifetime achievements, overseas humanitarian relief, and preserving the culture and history of the UAE and Abu Dhabi. They are:
Staff Col Dr Aysha Al Dhaheri
Staff Col Dr Aysha Sultan Al Dhaheri has provided medical care and humanitarian relief in some of world's most conflict-ridden areas, risking her welfare to care for others and serve her country.
The 46-year-old Emirati, a military doctor at Zayed Military Hospital, has volunteered to be part of many official UAE humanitarian relief missions, oftentimes as the first or only female physician.
In 2015, Dr Al Dhaheri led the first female medical team in Eretria, offering healthcare and humanitarian assistance to the Yemeni refugees and the local Eritrean people. Most recently, Dr Al Dhaheri undertook a mission in Yemen, volunteering to provide medical attention in this war-torn area. Dr Al Dhaheri has also been a part of missions in Afghanistan, Kosovo and Somalia, helping to fulfil the UAE's policy to provide healthcare support.

Dr Lihadh Al Gazali
Dr Lihadh Al Gazali, a pioneer in genetics research in the Arab World, has dedicated her life to identifying and characterising genetic conditions and abnormalities unique to families in the region.
A British citizen of Iraqi descent, Dr Al Gazali moved to Al Ain with her husband in the 1990s, paving the way to genetic awareness when there was very little knowledge or understanding of genetic field, and its significance to the UAE and the region.
Among her many breakthrough discoveries, two where named after the doctor - the Al Gazali Syndrome. Throughout her long and distinguished career as a Professor and Senior Consultant in Clinical Genetics and Paediatrics at UAE University, Dr Al Ghazali has led public awareness campaigns, developed collaborations with international research organisations and helped establish the first gene registry in the UAE.
She launched a Clinical Genetics Service supported by cytogenetic and DNA laboratories which covers the entire UAE population, offering counselling, education and support for families affected by genetic diseases. Her work has seen her bestowed with countless domestic and international awards, including the globally-recognised honour, L'Oreal-Unesco Award for Women in Science.
Dr Ghassan Al Hasan
Jordanian national Dr Ghassan Al Hasan, 71, is one of the region's foremost authorities in the study, preservation and promotion of Arabic poetry. As the only person in the world to have earned a Doctorate in Nabati Poetry, his expertise and perspective have added immense value to the documentation and authentication of this a form poetry.
A UAE resident for more than 40 years, Dr Al Hasan's work in documenting UAE's Nabati poetry and as a Consultant to the Cultural Programmes and Heritage Festivals Committee were essential in reviving interest in and understanding of Nabati Poetry throughout the UAE community.

The late Mohammed Khalaf Al Mazrouei
Mohammed Khalaf Al Mazrouei was instrumental in forming policies and initiatives to preserve the Emirate's national culture and heritage, and perhaps most significantly served as an effective and influential bridge for younger generations of Emiratis to genuinely connect with their history.
As Culture and Heritage Advisor to His Highness Sheikh Mohamed bin Zayed Al Nahyan, Crown Prince of Abu Dhabi and Deputy Supreme Commander of the UAE Armed Forces, Al Mazrouei continuously developed relevant and engaging programmes and initiatives to both safeguard and promote UAE culture and heritage in today's modern day.
Considered a foremost expert in UAE culture, heritage and history, Al Mazrouei was frequently a reference point and source of information for events that sought to highlight and preserve the country's historical traditions and customs.
He was a driving force working behind-the-scenes to encourage citizens of all ages, backgrounds and interests to participate in cultural events and festivals throughout the Emirate of Abu Dhabi.
The late Mohamed Khalaf Al Mazrouei, who passed away in 2014 at the age of 48, has ensured that through platforms he created the UAE's national identity will live on through future generations.

Dr Ayesha Al Memari
Dr Ayesha Al Memari, 37, completed extensive education and training overseas to become the first Emirati physician to specialise in emergency medicine. Her sense of duty also recently led Dr Al Memari to volunteer in Yemen – providing emergency medical care to UAE soldiers serving in the Coalition Forces – making her the first, female civilian doctor to do so.
In addition, she continues to contribute to the expansion and advancement of emergency medical capabilities at Mafraq Hospital, where she is Consultant Emergency Medicine and Critical, EM Programme Director. Dr Al Memari is also head of the Abu Dhabi branch of the Emirati Medical Association; co-founder of the EMA-Mini Medical School, a programme open to the public to help develop their medical knowledge to improve their daily lives; and General Secretary of the Emirates Society of Emergency Medicine, a non-profit organisation that brings together physicians and nurses working in emergency medicine.

Dr Adnan Al Pachachi
A veteran politician and diplomat, Dr Adnan Al Pachachi played a pivotal role in the birth of the UAE's political structure and its early foreign policy.
A UAE National of Iraqi origin, Dr. Al Pachachi arrived in the UAE with extensive political experience that was a crucial asset as the United Arab Emirates became a nation. He led the mission that secured the UAE's acceptance into the United Nations, with the UAE becoming the first country to address the UN General Assembly in Arabic in 1972.
He went on to contribute to the UAE through several influential Government positions and was on the board of directors of some of Abu Dhabi's most important entities. His list of achievements is immense – including contributing to plans to form the Union, serving as a member of the first Executive Council of Abu Dhabi, helping to lay the groundwork of Sheikh Zayed's early foreign policy, and helping to formulate the UAE constitution.
Described as a sincere and hard-working man, now at the age of 92, he is considered a resource on the formation of the UAE.

Dr. Anwar bin Mohammed Gargash
Dr Anwar Mohammed Gargash, Minister of State for Foreign Affairs, is an empowering force in modern day UAE, investing in the development of young leaders as well as conceiving the frameworks for institutions critical to the advancement of the country.
Whether as a professor, a minister of state or a mentor, Dr Anwar has guided and supported an emerging generation of public servants, as well as, acted as a driving force behind the representation of women in UAE politics, parliament and government.
Significantly, in 2006 Dr Gargash played a critical role in fostering the country's parliamentary structure based on President Sheikh Khalifa bin Zayed Al Nahyan's vision of developing the UAE's participatory political system. Representation in the Federal National Council and its advisory role offer a unique development within the context of nation building, expanding avenues for political participation for UAE citizens. In addition, Dr Gargash has lent his distinct perspective and voice to further progressing UAE's foreign policy platforms and policies.

The late Susan Hillyard
There are few more important sources of information about specific aspects of life in Abu Dhabi before the discovery of oil than UK citizen Susan Hillyard.
Arriving in 1954, accompanying her husband who was an oil company executive, Mrs Hillyard noted her day-to-day observations of life over the next four years. The result of those entries is the book Before The Oil, published in 2002 at the insistence of the late Sheikh Zayed bin Sultan Al Nahyan, Founder of the UAE. Sheikh Zayed told her: "You are now the only person who clearly remembers Abu Dhabi as it was. The present always overlays the past so that it gets forgotten in a generation or so unless it has been written down."
Mrs Hillyard forged a close relationship with Emirati women in Abu Dhabi and was a frequent visitor to the women's quarters at Qasr Al Hosn, where she was introduced to the Sheikhas of the ruling Al Nahyan family. She maintained a close connection with Abu Dhabi throughout her lifetime, providing information to those architects working on the preservation of Qasr Al Hosn. Susan will be remembered for capturing and documenting the photo of the late Sheikha Salama bint Butti Al Nahyan, the only photo documented of her since that time.

Susan Hillyard passed away in 2014 at the age of 87
During his memorable lifetime, the late Sheikh Zayed bin Sultan Al Nahyan, Founder of the UAE, believed in the generosity and kindness of the people of the UAE. The affection he bestowed upon his people emanated from his faith in humanity and trust in the belief that every person is inherently selfless and capable to care for others and their community.
Through the commitment of President His Highness Sheikh Khalifa bin Zayed Al Nahyan, to preserve the legacy of our nation's late father, the Government of Abu Dhabi has chosen to celebrate compassionate individuals who have selflessly volunteered their time to build and support the community of Abu Dhabi.
Through their selfless action, Abu Dhabi Awards recipients illustrate the legacy of the nation's father. The public was encouraged to nominate people who have contributed to building and supporting a community, regardless of age, nationality or gender; this included Abu Dhabi citizens, residents and non-residents whose good deeds have benefited the Emirate, as well as Abu Dhabi citizens performing good deeds internationally.
Award recipients are selected based on their deeds and actions, not by how many nominations they received - one nomination is all it takes.
Follow Emirates 24|7 on Google News.