Mohamed receives Russian FM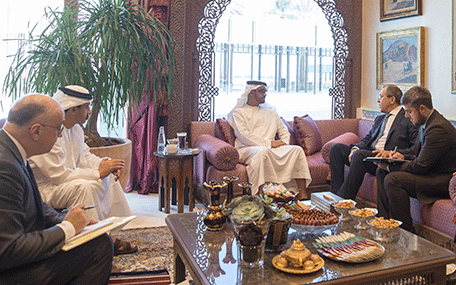 His Highness Sheikh Mohamed bin Zayed Al Nahyan, Crown Prince of Abu Dhabi and Deputy Supreme Commander of the UAE Armed Forces, received visiting Foreign Minister of Russia, Sergei Lavrov, and members of his delegation, today at Al Bahr Palace.
His Highness Sheikh Mohamed welcomed Lavrov's visit to the UAE.
They discussed the UAE-Russian bilateral relations and ways of bolstering and promoting them in light of the excellent ties and common interests of the two countries.
During the meeting which was attended by Sheikh Abdullah bin Zayed Al Nahyan, Foreign Minister, the parties discussed a number of regional issues and developments with a focus on the peace talks for Syria in Geneva and the intensified consultations between international parties to push these talks towards achievement of security, stability and territorial integrity of Syria and to an end to the tragedy of the Syrian people.
The meeting touched upon the developments in Libya in light of the international efforts to bolster the foundations of peace and stability for the Libyan people, form a national reconciliation government and ensure that terrorist and extremist organisations threatening regional and international stability are countered.
The two sides underlined the importance of continuing regional and international efforts and the establishment of the principles of dialogue, peace and mutual confidence to ensure that solutions to all issues are found so as to achieve regional security and stability and ensure a better future for the countries of the region and their peoples.
During the meeting, the parties exchanged views on other developments in the region and issues of common concern for both countries.
Omar Saif Ghobash, Ambassador of the UAE to Russia, Alexander Efimov, Russian Ambassador to the UAE, as well as members of the Russian delegation accompanying Minister Lavrov.
Follow Emirates 24|7 on Google News.