Mohamed receives 'token of friendship' from Indian president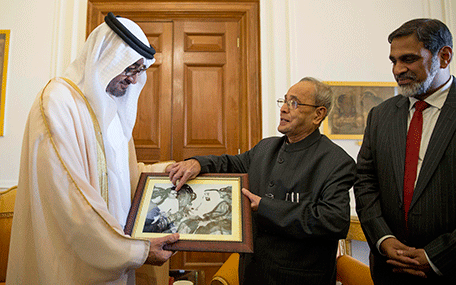 The President of India, Shri Pranab Mukherjee, today presented His Highness Sheikh Mohamed bin Zayed Al Nahyan, Crown Prince of Abu Dhabi and Deputy Supreme Commander of the UAE Armed Forces, with a copy of 'India and the UAE: In Celebration of a Legendary Friendship', a coffee table book authored by Shri Venu Rajamony, Press Secretary to the President and former Consul-General of India in Dubai from 2007 to 2010.
The 200-page book, produced by Indian Expressions (now IEDEA), a publishing company in the UAE, describes the dynamic India-UAE partnership with insight and contains rare historical photographs as well as contemporary narratives spanning historic, political and cultural aspects of the relationship between the two countries.
The book has been translated and published in Arabic by the National Centre for Documentation and Research, Ministry of Presidential Affairs, Abu Dhabi, UAE.
The book is a treasure trove of facts, figures and stories of the ancient, yet modern and dynamic ties that India and the UAE share. The book takes the reader on a journey through time, where glittering vistas of ancient and contemporary narratives and interviews, rare and present-day photographs and statistics are artistically juxtaposed to provide a fascinating and comprehensive glimpse of this strong and well-preserved association.
The President also presented a historical photo of himself visiting the Crown Prince's father, the late Sheikh Zayed bin Sultan Al Nahyan, during the latter's visit to New Delhi in 1975. At that time, President Mukherjee was the Indian Minister of State for Banking and Finance. The photograph also features in the coffee table book.
Follow Emirates 24|7 on Google News.