Mohammed approves Dh7bn projects, Emirates Road extension in UAE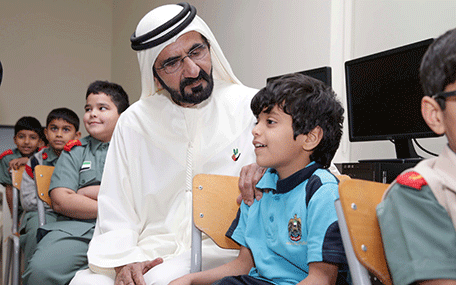 His Highness Sheikh Mohammed bin Rashid Al Maktoum, Vice-President and Prime Minister of UAE and Ruler of Dubai, approved today projects for the Ministry of Infrastructure Development, worth Dh7 billion, during a field visit to the East Coast.
The projects include approvals for housing aid, the building of new residential complexes, roads, schools, health centres and government buildings.
Dh5-billion have been allocated until 2021 for citizen accommodation projects that will benefit 42,000 people over the next five years. Sheikh Mohammed also visited a number of road projects and approved an additional Dh1.5 billion for the ministry's projects.
Speaking on the occasion, Sheikh Mohammed said, "The government will closely follow-up on all sectors and infrastructure is at the top of its agenda to provide a decent living condition for citizens."
The Vice President also met with five ministers during his visit to inspect projects and review future plans. He then visited a school in Kalba, and youth sports complex in Fujairah and ordered the establishment of a similar complex in Ras Al Khaimah.
Sheikh Mohammed also approved the extension of Emirates Road leading to the Ras Al Khaimah Ring Road and the Khatm Al Milaha road reaching Fujairah.
He visited a new design model for public schools in the country, equipped with sophisticated laboratories, learning centres, and modern facilities, where he attended a reading session with the students. He was also shown new education plans which will see the incorporation of programming materials and innovation skills in the curriculum for the coming years.
Sheikh Mohammed said, "Development must be achieved comprehensively and be balanced across all regions of the country. All regions represent a priority for President His Highness Sheikh Khalifa bin Zayed Al Nahyan."
"Housing is an essential service, and is every citizen's right, and a priority for the government. We do not accept any delay or disruption in providing residential assistance to citizens," he added.
"Government project workers and innovators have our full appreciation. Our communication is open to all teams and our criteria for assessing performance will be on the field and on the ground, and not through office reports," he said.
Sheikh Mohammed inspected 12 residential complexes, which will be implemented by the Ministry of Infrastructure nationwide. He also approved the ministry's plan and the Sheikh Zayed Housing Programme to provide housing assistance worth Dh5 billion in five years to Emiratis.
The Vice President also approved today 17 new projects worth Dh1.5 billion, which will be implemented by the ministry in 2016 and 2017, respectively.
Sheikh Mohammed also visited the youth sports complex in Fujairah, along with Dr. Abdullah bin Mohammed Belhaif Al Nuaimi, Minister of Infrastructure Development. They discussed the ministry's plans.
Sheikh Mohammed ordered setting up a similar sports complex in Ras Al Khaimah (RAK). Sheikh Mohammed also endorsed the Emirates Ring Road extension project to RAK. He visited Safed Dam and inspected a number of new road projects being implemented by the ministry.
He visited Abdul Rahman Nasser School in Kalba, a model school, where he exchanged views on plans and programmes of the ministry with Hussein bin Ibrahim Al Hammadi, Minister of Education and Jameela Salem Al Muhairi, Minister of State for Public Education.
While touring the Eastern Coast, he visited Safed Dam, where they reviewed with Dr. Thani bin Ahmed Al-Zeyoudi, Minister of Climate Change and Environment, the dam capacity and its effect on ground water, the ministry's water management plan and dam projects.
The Vice President said, "All the UAE regions are priority to the UAE President, and our development is balanced and comprehensive."
Accompanied by Mohammed bin Abdullah Al Gergawi, Minister of Cabinet Affairs and Future and Khalifa Saeed Suleiman, Director-General of Protocol and Hospitality Department in Dubai, he said, "The housing is a basic service and right of citizen as well as a priority to the government, which does not accept any delay or disruption to offer the housing assistance to the citizens. We will continue to follow up all sectors in the fields, and the infrastructure projects will be at the top of the agenda to provide a decent living conditions for the citizens."
Follow Emirates 24|7 on Google News.