Mohammed attends graduation ceremony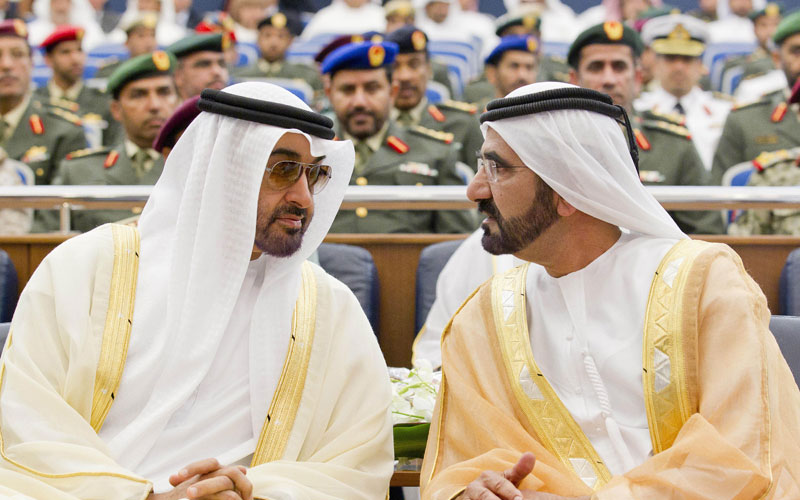 His Highness Sheikh Mohammed bin Rashid Al Maktoum, Vice-President and Prime Minister of the UAE and Ruler of Dubai, attended the graduation ceremony of the 20th batch of Command and Staff officers at the Joint Command and Staff College in Abu Dhabi on Tuesday.
Present at the ceremony was Abu Dhabi Crown Prince and Deputy Supreme Commander of the UAE Armed Forces General Sheikh Mohammed bin Zayed Al Nahyan.
Shortly after his arrival, Sheikh Mohammed inspected the guards of honour and greeted the graduates.
Staff Major General Pilot Rashad Salem Al Saadi, Commander of the Staff College, welcomed in his inaugural speech Sheikh Mohammed bin Rashid, thanking him for his sponsorship and attendance.
"The graduating officers and the Armed Forces derive their inspiration from the support of our higher leadership headed by President His Highness Sheikh Khalifa bin Zayed Al Nahyan", he said, pledging the allegiance to the nation and prudent leadership.
Major General Al Saadi underscored that the protection of the country and national gains top the priorities of the Armed Forces, Calling on the officers to equip with good conduct, courage and far sightedness to protect the security of the UAE.
The 91 graduated officers, including officers from the UAE, GCC, Jordan, Yemen, South Korea and France received the training from July 25, 2010 to July 7, 2011.
At the conclusion of the ceremony, the Vice President, who congratulated the graduates, presented the certificates to them. Flanked by Sheikh Mohammed bin Zayed, guests and audience, Sheikh Mohammed posted for taking memorial photos.
The event was also attended by Sheikh Surur bin Mohammed Al Nahyan, Sheikh Hazza bin Zayed Al Nahyan, National Security Adviser, Deputy Chairman of the Executive Council, Lt. General Sheikh Saif bin Zayed Al Nahyan, Deputy Prime Minister and Minister of Interior, senior officials and senior officers.
Follow Emirates 24|7 on Google News.