Mohammed, Azeri President hold talks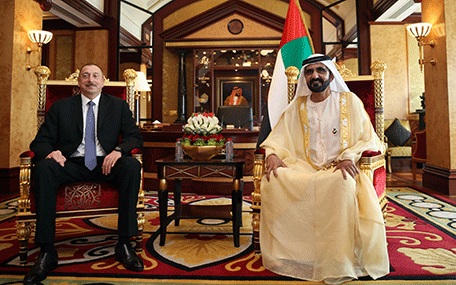 His Highness Sheikh Mohammed bin Rashid Al Maktoum, Vice President and Prime Minister of UAE and Ruler of Dubai, and the visiting Azeri President Ilham Aliyev held official discussions dealing with regional and international issues of mutual concern.
Sheikh Hamdan bin Mohammed bin Rashid Al Maktoum, Crown Prince of Dubai, and Sheikh Maktoum bin Mohammed bin Rashid Al Maktoum, Deputy Ruler of Dubai, attended the meeting.
They also discussed other issues related to peace, stability and economic development, especially in the region, Asia and Middle East.
The discussions, held today at Zabeel Palace, focussed on ways to further enhance co-operation between the two friendly countries to include wider domains in the investment partnership, trade, tourist and cultural exchange as well as an increase in the number of flights between UAE airports and Baku to contribute positively in developing mutual tourism and bridge the distance between the two friendly peoples especially in terms of mutual visits between businesspersons and investors of both sides.
Sheikh Mohammed and Aliyev hailed the existing strong relations between the two countries in various domains as well as enhancing friendship bonds between the two countries in light of the historic visit of His Highness Sheikh Mohammed while leading a high-profile delegation to Baku last year as well as the current visit of the Azeri President to the UAE.
Sheikh Mohammed and Aliyev attended the signing ceremony of an agreement on institutional co-operation in the field of maritime transport and a Memorandum of Understanding (MoU) on information and communication technology between the two countries.
Mohammed bin Abdullah Al Gargawi, Minister for Cabinet Affairs, and Azerbaijan's Minister of Economic Development, Shahin Mustafayev, signed the agreement and the MoU.
Sheikh Mohammed and the Azeri President approved the agreement and MoU, wishing that they would contribute to enhancing communication bridges and the desired objectives of the two countries and peoples in order to reach higher levels of economic, technical, trade and tourist cooperation in the best interests of the two countries.
Among those who attended the signing ceremony were Sheikh Ahmed bin Saeed Al Maktoum, Chairman of Dubai Civil Aviation Authority and Chairman of Emirates Group, Sultan bin Saeed Al Mansouri, Minister of Economy, Reem bint Ibrahim Al Hashemi, Minister of State, Abdullah bin Mohammed Saeed Ghobash, Minister of State and head of Honour Mission, Mohammed Ibrahim AI Shaibani, Director-General of His Highness the Ruler's Court, Government of Dubai, Khalifa Saeed Suleiman, Director-General of the Department of Protocol and Hospitality in Dubai, and Dr. Mohammed Ahmed Hamel Al Qubaisi, UAE Ambassador to the Republic of Azerbaijan.
Azerbaijani Foreign Minister, Elmar Mammadyarov, Ambassador of the Republic of Azerbaijan to the UAE, Dashgin Shikarov, and the General Consul of the Republic of Azerbaijan in Dubai, Ismail Zada, also attended from the Azeri side.
Follow Emirates 24|7 on Google News.