Mohammed bin Rashid attends opening of 7th Annual Investment Meeting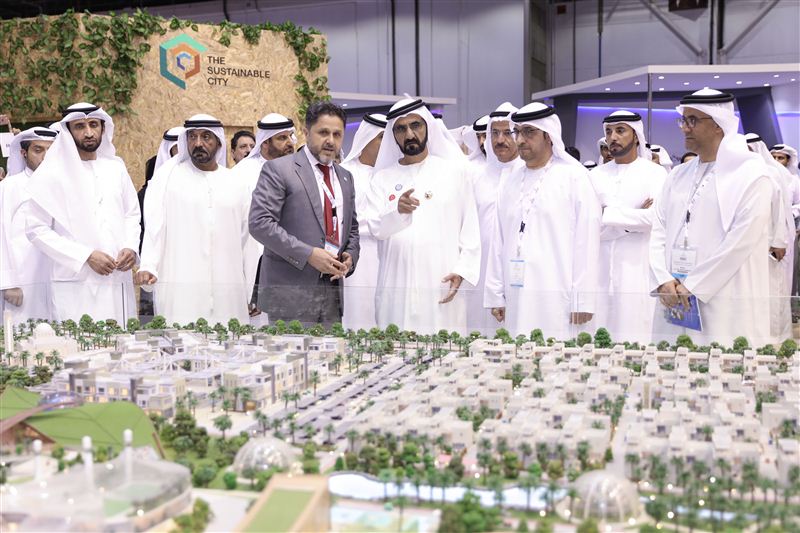 Vice President, Prime Minister and Ruler of Dubai, His Highness Sheikh Mohammed bin Rashid Al Maktoum, attended today the opening session of the seventh edition of the Annual Investment Meeting (AIM 2017) which aims to bring together public and private sector leaders across the world, opened on a grand note at Dubai World Trade Centre.
The high-level and integrated association which runs from April 2nd to 4th, will provide an array of dynamic business opportunities during the leading three-day exhibition.
Sultan Al Mansouri, the UAE Minister of Economy said in his opening speech: "FDI is a major driver of economic growth and sustainability. The world economy has seen a surge in FDI flows over the past decades, and it is clear that both developed and developing countries are working hard to develop favorable policies and incentives to attract more foreign investments. On a national level, however, we must pay greater attention to the desired outcomes and the potential gains that can be achieved, by developing improved FDI strategies, to increase productivity and enhance national competitiveness."
"In 2015, global FDI inflows increased by about 40% to $ 1.8 trillion. However, this growth did not indicate to a similar increase in productive capacity in other countries. In order to accomplish the positive outcomes that can be achieved through FDI, such as job creation, skills and knowledge transfer, nations must create a clear vision and concrete agendas for a more competitive economy," he added.
"In contrast to 2015, FDI inflows in 2016 have shrunk to $ 1.5 trillion. This decline was more pronounced in emerging markets than in developed economies. As a result, emerging markets face increasing challenges to attract global FDI. To succeed in our efforts, decision-makers in emerging markets must recognize the different motivations and incentives of foreign investments in different sectors, which require a mix of differentiated policies to maximize the potential benefits of FDI," Al Mansouri said.
"According to the ambitious economic policies adopted by the UAE and expressed by the 2021 vision of the UAE to build a competitive economy based on knowledge and innovation, the UAE has become a regional and global center for investment and business, as well as a source of huge investment flows to a large number of countries in the world," he said.
"The UAE ranked 16th in the Global Competitiveness Report in 2016-2017, thus the most competitive position in the region. The UAE is also the largest investment-attracting country in the Middle East and North Africa region, according to UNCTAD's Global Investment Report 2016," he said.
"This competitive position has not been achieved by chance, but instead through determination and hard work. Achieving it also required a clear vision of leadership, strategies, teams, performance indicators, continuous follow-up, learning and benefiting from the experiences of other countries, and through interaction and cooperation of the private sector in building sustainable partnerships. This is what makes the UAE the second largest Arab economy and the most diversified economy in the region," he said.
"In order to witness sustainable economic growth, we must continue to invent ideas, create plans which did not exist previously and to always look ahead and continue to manufacture solutions to our most challenging obstacles," he emphasised.
"In the spirit of innovation, the Annual Investment Meeting, under which we meet today, has launched the AIM Start Up Platform for entrepreneurs. This platform serves to connect promising startup companies with potential partners and investors from around the world," he said.
"Today, the world is highly interconnected and affected by any changes happening in any part of the world. Therefore, causing some societies to stand still and feel unable to cope with these rapid changes. Thus, collective and collaborative efforts between governments and private sectors are essential to overcome the challenges and to build a secure, stable and prosperous future for the citizens of the world to live in," he said.
"Economic openness and free markets have been an incentive for the growth of economies. Trade protectionism policies have always served short-term objectives, but their long-term implications are negative. Today, we meet to emphasize that FDI has always been a contributing factor in the development of the economies of receiving and exporting countries, and that protectionist policies would only undermine the growth of investments and would negatively impact the prosperity of the global economy," he said.
Follow Emirates 24|7 on Google News.