Mohammed bin Rashid in top ten leaders using Twitter for citizen engagement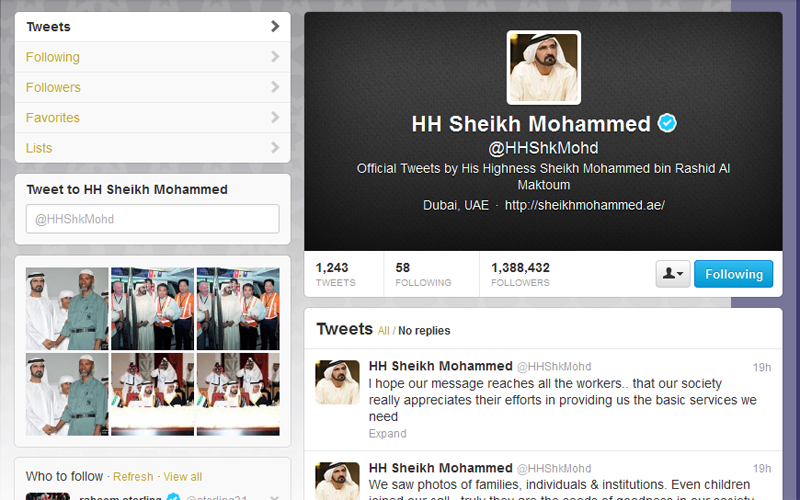 Vice-President and Prime Minister of the UAE and Ruler of Dubai His Highness Sheikh Mohammed bin Rashid Al Maktoum has been ranked among the top ten heads of state who use Twitter for citizen engagement, according to a new study by the US Digital Policy Council (DPC), an international, non-partisan 'think-tank' that promotes good governance and policy-making.
In terms of followers, the study found that US President Barack Obama is by far the most watched world leader on Twitter, with 25 million followers. Coming in at number two?
Hugo Chavez of Venezuela, with 3.5 million followers.
In its World Leaders On Twitter Report, DPC says: ''In 2012, His Highness Sheikh Mohammed gained 910,000 followers in just one year to have 1.3 million followers now.
"He regularly shared his thoughts, future plans, attended events and various achievements with citizens and followers.
As the world's most followed leaders on Twitter, Sheikh Mohammed has become a reliable world newsmaker.
His page on the Twitter serves as a platform for his leadership, philosophy, vision and a channel of communication with his fans and followers across the globe.
His Highness uses his Twitter account to regularly update his followers about his formal and informal engagements, initiatives and resolutions on various political, social, sports, educational, cultural and social occasions.
Last year, his Twitter account saw an unprecedented activities where His Highness launched a raft of humanitarian initiatives, the latest of them was his instructions to the concerned authorities not to make any celebrations for the Accession Day on January 4.
"In the last two years, we highlighted key segments of the community that deserve our gratitude and attention such as orphaned children and mothers.
"This year, we focus on a new group: general labor employees such as gardeners, janitors, construction workers, domestic workers among others. These groups play an active role in society,'' Sheikh Mohammed said when he launched the community-driven initiative through his Twitter account.
He also launched the ''Union Tree'' initiative through his Twitter page.
In 2012, the Digital Policy Council observed a tremendous growth in the number of governments embracing social media.
As more of the world becomes connected online, world leaders now recognise the opportunities social media holds as an informative and engaging tool.
Analyses as of December 2012 revealed that 75%, or three out of four heads of state, were utilising the social media site Twitter.
A total of 123 world leaders out of 164 countries had accounts on Twitter set up in their personal name or through an official government office.
In 2011 only 69 out of 164 countries had embraced Twitter. The new figures represent a 78% increase in the number of heads of state and national governments on Twitter from 2011.
Follow Emirates 24|7 on Google News.