Mohammed bin Rashid receives French PM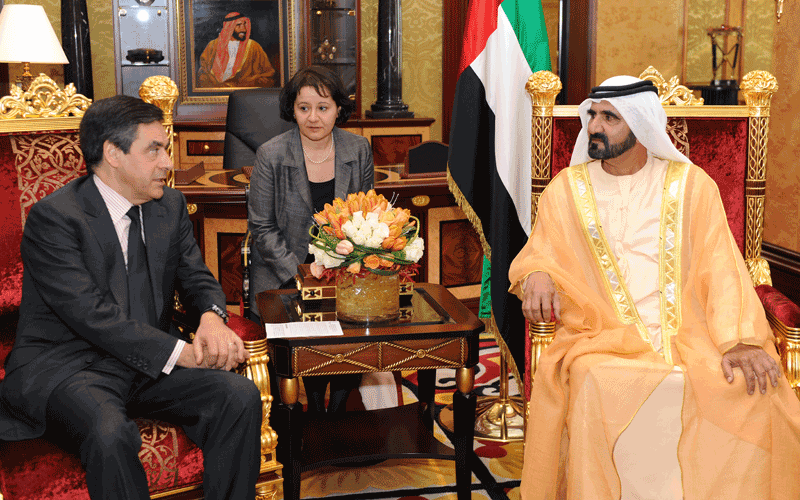 UAE Vice President, Prime Minister and Ruler of Dubai His Highness Sheikh Mohammed bin Rashid Al Maktoum received Prime Minister Francois Fillon of France at Za'abeel Palace on Sunday, in the presence of Dubai Crown Prince Sheikh Hamdan bin Mohammed bin Rashid Al Maktoum.
Sheikh Mohammed welcomed the visiting prime minister, expressing his satisfaction with positive developments in bilateral relations between the UAE and France in various fields. He said that the UAE's leadership is keen to further enhance the historic and strategic ties between their two countries, adding that he is confident that the prime minister's visit would be constructive and boost public-private sector cooperation.
After thanking Sheikh Mohammed for his hospitality, Fillon conveyed his happiness on leading the French delegation to the UAE, where he hopes to achieve success in the common interests of both their countries.
Also present at the meeting were Dubai Deputy Ruler Sheikh Maktoum bin Mohammed bin Rashid Al Maktoum, Foreign Minister Sheikh Abdullah bin Zayed Al Nahyan, Minister of Cabinet Affairs Mohammed Abdullah Al Gergawi, Minister of Energy and head of the mission accompanying the French delegation Mohammed bin Dhaen Al Hameli, Minister of State Reem Ibrahim Al Hashemi, Director of Dubai Ruler's Court Mohammed Ibrahim Al Shebani, Commander General of Dubai Police Lt. General His Excellency Dahi Khalfan Tamim, Director of Dubai Ruler's Office Lt. General Musabbah Rashid Al Fattan and senior officials.
Following the meeting, Sheikh Mohammed hosted a luncheon banquet in honour of the French Prime Minister and his accompanying delegation, with the attendance of sheikhs, ministers and senior officials.
Inaugurates Sorbonne university campus
French Prime Minister Francois Fillon on Sunday inaugurated a campus at the Abu Dhabi branch of the famed Sorbonne with a call for dialogue and an appeal against the idea of a clash of civilisations.
The Paris-Sorbonne University Abu Dhabi is a "place of dialogue and sharing," Fillon said.
"There are few places that such a dialogue could take root as well as here ... It is a place where we learn how one civilisation can feed the development of another," Fillon said.
There does not exist "a better place for research than the Middle East, the birthplace of civilisations, for historians, the birthplace of the first (legal) code for lawyers, of algebra, for mathematicians," he said.
In another speech at the inauguration, Mugheer Al-Khaili, head of the Abu Dhabi Education Council, played up the university's motto of "A bridge between civilisations."
Fillon spoke up against the theory of a "clash of civilisations."
"The thesis of a clash of civilisations, which does not belong to the intellectual heritage of France, is dangerous and worthless. It cannot be the basis of any future vision of the international order," the premier said.
Opened in 2006, Sorbonne university's branch in the UAE capital now has over 600 students of more than 60 different nationalities. Its new campus on Al-Reem island will be able to accommodate 2,000 students.
Construction was financed entirely by the oil-rich Gulf state.
He was also scheduled to visit a French military base in Abu Dhabi.
Follow Emirates 24|7 on Google News.