Mohammed bin Zayed meets French PM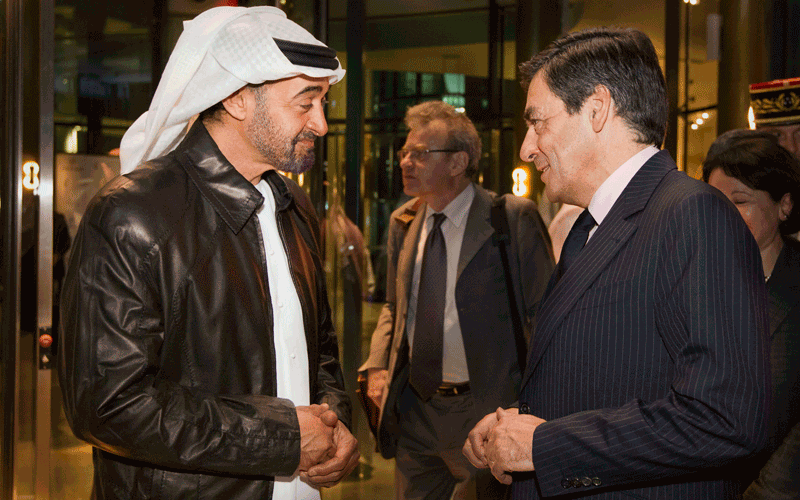 His Highness General Sheikh Mohammed bin Zayed Al Nahyan, Crown Prince of Abu Dhabi and Deputy Supreme Commander of the UAE Armed Forces, on Sunday discussed with French Prime Minister Francois Fillon ways of enhancing relations between the two countries and reviewed current developments on the regional and international levels as well as the stances of both countries towards them.
Sheikh Mohammed stressed that the visit reflects the keenness of the leadership in UAE and France to strengthen bilateral relations and to further fruitful cooperation and joint projects for the benefit of both countries.
The French premier expressed happiness over his visit to the UAE and the meeting with the Crown Prince of Abu Dhabi. He hailed the developing relationship and close links between the two countries, stressing that it was an example of mutual trust and a common will. Fillon also expressed his country's wish to further bilateral partnerships, thus meeting the aspirations of the leaderships and the people of both countries, noting that the unique projects of cultural dimensions such as the Louvre Abu Dhabi and the Sorbonne University Abu Dhabi formed a strong foundation for the development of friendship and cooperation into higher levels.
The meeting also dealt with the latest developments in the regional and international arenas, especially the current events in Egypt.
The meeting was attended by Mohammed Bin Dhaen Al Hamili, Minister of Energy and the Chief of the Mission of Honour accompanying the French premier, a number of senior state officials, UAE Ambassador to France Mohammed Mir Abdullah Al-Raeesi and French Ambassador to UAE Alain Azouaou.
Follow Emirates 24|7 on Google News.