Mohammed bin Zayed receives Apple CEO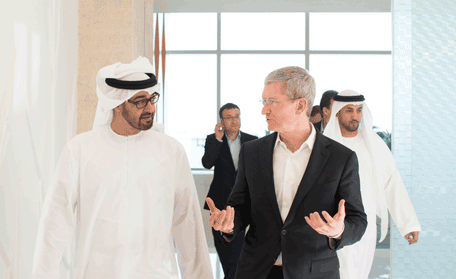 General Sheikh Mohammed bin Zayed Al Nahyan, Crown Prince of Abu Dhabi and Deputy Supreme Commander of the UAE Armed Forces, received today at Al Mamoura, Tim Cook, CEO of Apple Inc., the US multinational corporation that designs, develops and sells consumer electronics, computer software and personal computers.
Sheikh Mohammed and Cook exchanged talks about novel concepts on software and telecommunication technology and its role in advancing educational, health and economic sectors as well as facilitating exchange of culture and knowledge among individuals and people.
The Crown Prince of Abu Dhabi noted the effective contribution of Apple in developing the ICT sector in the world, stressing the importance of building partnerships between national companies and institutions and international specialised corporations for sharing ideas and information and benefiting from the ICT sector to develop all fields, particularly education.
Cook lauded the cutting-edge e-services introduced in the UAE and the relentless efforts of UAE companies and firms to harness advancements in ICT sector to modernise their businesses, activities and services.
Mohammed Mubarak Al Mazrouie, Undersecretary of Abu Dhabi Crown Prince's Court, and Waleed Al Mokarrab Al Muhairi, Deputy Group CEO and Chief Executive Officer, Emerging Sectors at Mubadala Development Company, and members of delegation accompanying Apple CEO, attended the meeting.
Follow Emirates 24|7 on Google News.