Mohammed bin Zayed receives Kerry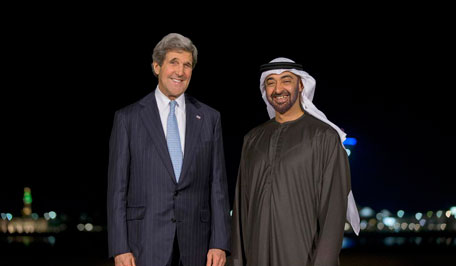 General Sheikh Mohammed bin Zayed Al Nahyan, Crown Prince of Abu Dhabi and Deputy Supreme Commander of the UAE Armed Forces, on Monday evening received at Emirates Palace US Secretary of State John Kerry and the delegation accompanying him.
Kerry is currently visiting the UAE as part of his first tour in the region.
The Abu Dhabi Crown Prince welcomed Kerry's visit to the country. The two sides reviewed the distinguished cooperation ties and friendship between the UAE and the US, as well as ways to strengthen them in all fields.
Attended by Sheikh Abdullah bin Zayed Al Nahyan, Foreign Minister, the meeting discussed the latest regional and international developments. The two sides also exchanged views on a number of mutual issues.
During the meeting, Sheikh Mohammed underlined the political and humanitarian responsibility of the international community about dire situation being experienced by the Syrian people, and its repercussions on the stability of surrounding countries and the region as well.
He stressed on the need to resume peace efforts in the region to promote moderation and stability, noting that the UAE is keen to support all efforts to strengthen chances for peace, security and stability in the region.
Sheikh Mohammed told Kerry about the strategy of the UAE, which is based on the values of cooperation, moderation and development, stressing that "these values are sufficient to achieve a quantum leap for young generation who are looking forward to future and trying to get out of the repeated crises that have impacted negatively on the region and its history."
For his part, the US Secretary of the State said his country is keen on boosting the joint cooperation with the UAE, citing the important humanitarian role shouldered by the UAE in the conflict zones.
Dr Anwar Mohammed Gargash, Minister of State for Foreign Affairs, Khaldoun Khalifa Al Mubarak, Chairman of the Executive Affairs Authority, Yusuf Manea Al Otaiba, UAE Ambassador to US, Michael Corbin, US Ambassador to UAE and the US delegation were also present.
Follow Emirates 24|7 on Google News.