Mohammed bin Zayed receives world's motorsport volunteer of the year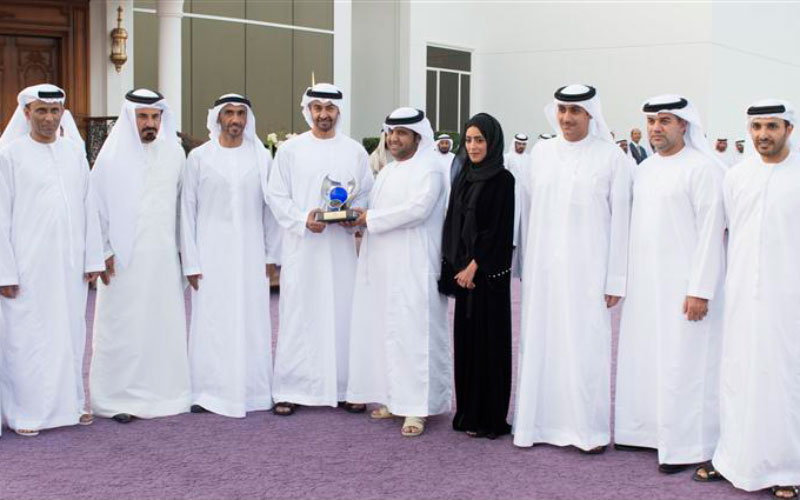 General Sheikh Mohammed bin Zayed Al Nahyan, Crown Prince of Abu Dhabi and Deputy Supreme Commander of the UAE Armed Forces, received on Monday evening Mohammed Al Shatri, who had been named by the FIA, the sport's governing body, as the worldwide Volunteer of the Year for 2012.
The meeting was held in presence of Sheikh Nahyan bin Zayed Al Nahyan, Chairman of the Board of Trustees of the Sheikh Zayed Foundation for Humanitarian and Charitable Works '&' Head of the Abu Dhabi Sport Council.
Sheikh Mohammed praised the achievements the Motorsport Volunteers Club (MSVC) of the EMSF which culminated in the selection of its member Mohammed Al Shatri as the worldwide Volunteer of the Year for 2012.
He also lauded Al Shatri's initiative of volunteering in different auto racing events that took place in the UAE.
"The culture of volunteering has come a long way in the UAE community. It is an activity that deserves support and encouragement by different organisations to hone skills of the volunteers and to motivate them to serve their community," he said.
Sheikh Mohammed was briefed on the activities undertaken by Al Shatri and the MSVC which has over 1,000 members from 64 countries, including 100 Emirati volunteers.
The meeting was attended by Sheikh Suroor bin Mohammed Al Nahyan, Lt. General Sheikh Saif bin Zayed Al Nahyan, Deputy Prime Minister and Interior Minister, Sheikh Hamed bin Zayed Al Nahyan, Chief of the Abu Dhabi Crown Prince's Court, Sheikh Hamdan bin Mubarak Al Nahyan, Minister of Public Works, Sheikha Lubna bint Khalid Al Qasimi, Minister of Foreign Trade. Also present were Khaldoon Khalifa Al Mubarak, Chairman of the ADMM and Mohammed bin Sulayem, President of Automobile and Touring Club of the UAE (ATCUAE).
Al Shatri, who was accompanied by senior officials of the Emirates Motorsport Federation (EMSF) and Abu Dhabi Motorsport Management (ADMM), said he was grateful to the support given by Sheikh Mohammed to motorsport and to voluntary works in the UAE.
Al Shatri received the prestigious title in recognition of his outstanding work as head of the team of UAE volunteers which makes a significant contribution to the overall marshalling of motor sport in the country.
It is the second year in a row that the FIA award has been won by a UAE-based volunteer. Alan Rooke, head of the ATCUAE's highly specialised F1 Grand Prix recovery team, was the recipient last year.
Follow Emirates 24|7 on Google News.