Mohammed bin Zayed tours Idex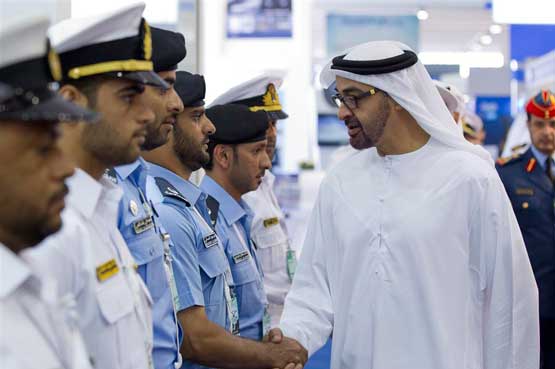 General Sheikh Mohammed bin Zayed Al Nahyan, Crown Prince of Abu Dhabi and Deputy Supreme Commander of the UAE Armed Forces, has lauded the support given by the UAE leadership to the initiatives aimed boosting industrial sector and increasing productivity in a way that would contribute to the economic diversification and enhance competitiveness of the UAE-made products.
Sheikh Mohammed made the remarks as he toured the Abu Dhabi International Defence Exhibition (Idex) which concluded on Thursday. He said he was pleased that 140 national companies showcased their products during the show. He also praised the capabilities and skills of the Emirati youth who proved themselves in advanced and specialised industries.
"We have come a long way with our pursuit for excellence and innovation. Our youth have great potentials and we are confident that they can take precision and advanced manufacturing capabilities to new levels. We are proud of our national industry making its presence strongly felt under one roof with the leading industrial houses," he said.
Sheikh Mohammed said the UAE had developed a clear plan for developing advanced industries "which is bearing fruit today." He also expressed appreciation to international companies which entered partnerships with the national companies, leading to the transfer of technology and know-how.
Earlier on Thursday, Sheikh Mohammed toured Navdex 2013, the naval and maritime security section of Idex, held on the dock edge at the Adnec Marina.
Sheikh Mohammed's tour took him to the pavilions of national and foreign companies taking part in Navdex. Over 80 companies from 15 countries displayed their products, while nine visiting vessels from the United States, Italy, France, the United Kingdom and Pakistan, in addition to UAE naval vessels.
Sheikh Mohammed also made a stop at the Tawazun stand, under which, 14 Tawazun group companies, including Nimr, TPI, TADS and Burkan, showcased their products.
He was briefed by Tawazun CEO Saif Mohamed Al Hajeri about the company's plans for attracting Emirati talents and for strengthening partnerships in defence industries and advanced technology.
Sheikh Mohammed also visited the stand of the Faculty of Science at the UAE University and was briefed about the projects implemented by students there such as a filter for toxic gases and a detector for exploding gases.
Follow Emirates 24|7 on Google News.