Mohammed inspects 'The Beach' in Jumeirah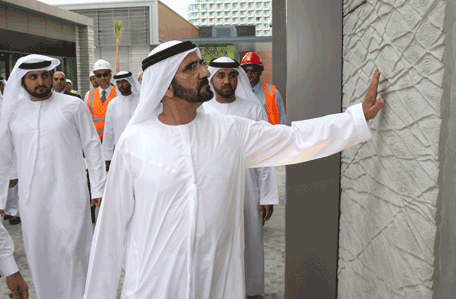 His Highness Sheikh Mohammed bin Rashid Al Maktoum, Vice President and Prime Minister of UAE and Ruler of Dubai, made an inspection visit to "The Beach" project in Jumeirah, Dubai, on Monday.
His Highness familiarised himself with the progress of work on the project and its components as well as the tourist services to be provided to the public that may, along with other attractions, contribute to strengthening Dubai's position as a world first-class tourist destination. The project is being implemented by Meras Holding.
Accompanied by Dubai Deputy Ruler Sheikh Maktoum bin Mohammed bin Rashid Al Maktoum and a number of senior officials, Sheikh Mohammed was briefed by Chairman of Meraas Holding Group Abdullah Al Habbai on the project and the value it will add to the tourist landscape in Dubai as a state-of-the-art beach destination. Al Habbai also unveiled that the project will open in two weeks.
Al Habbai, on behalf of all Merass Holding staff, deeply welcomed and highly appreciated Sheikh Mohammed's visit and expressed gratitude to His Highness' attention which he gives to national institutions in various sectors , which he, said, is an incentive for more effort and hard work to keep up with His Highness' futuristic vision aiming to transform Dubai into the best city in the world and upgrade the UAE to the ranks of the world's major countries , stressing Merass' commitment to this vision and its ongoing quest to have a tangible contribution to the achievement of the country's desired ambitions.
"The Beach", located on the Arabian Gulf, as part of "Jumeirah Beach Residence" (JBR), forms a qualitative addition to the integrated entertainment and recreational experience which Dubai provides to its residents and visitors alike. This is achieved through the project's wide variety of facilities that will change the concept of traditional family entertainment, including the "beach cinema " which will serve as the most prominent in the series of added attractions available in the project .
"The Beach" cinema introduces the first recreational experience in the UAE with and the largest open air screen in the Middle East, which will allow visitors to watch screenings while sitting on the coast of Dubai's picturesque while enjoying variety of restaurants and cafes that are spread throughout the project. A network of hallways and corridors will connect all parts of the project. Moreover, more than 70 new brand outlets will be opened in the project including restaurants, cafes and recreational facilities.
Follow Emirates 24|7 on Google News.