Mohammed launches Dubai Wholesale City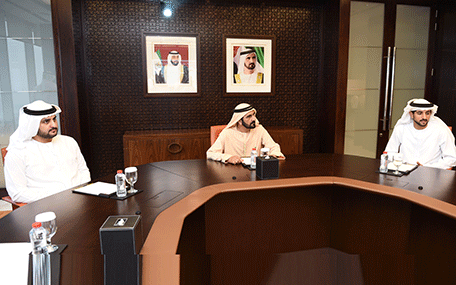 His Highness Sheikh Mohammed bin Rashid Al Maktoum, Vice President and Prime Minister of UAE and Ruler of Dubai, has launched Dubai Wholesale City, the largest global wholesale hub, set to span over 550 million sqft, with an expected development cost of Dh30 billion over ten years.
The new development aims to increase the UAE's share of the global wholesale trade sector, which is valued at $4.3 trillion and expected to grow to $4.9 trillion in the next five years.
"The UAE is moving on with its strategic plan to diversify the national economy away from a dependence on oil. It has its unique economic vision that enables the creation of new economic sectors to contribute to the nation's growth, even while upgrading existing sectors to ensure they are on par with highest global standards," Sheikh Mohammed made the statement during the official launch of Dubai Wholesale City.
The new global hub will comprise of specialised integrated trading parks that meet all the requirements of wholesale traders under one roof, as well as an international trade exhibition facility. Given Dubai Wholesale City's proximity to Al Maktoum International Airport, and the Jebel Ali Port, the development will create a crucial link between four main continents and aims to be home to more than 15000 wholesale traders.
Dubai Wholesale City will also feature 'Country Pavilions,' that will include commercial centers and malls offering products from various different countries, including India, Malaysia, Thailand, Turkey, Australia, China, South Korea, Germany, Saudi Arabia, the United States and south America.
The new project will revolutionise the global wholesale trade through its utilisation of integrated smart services, an advanced framework, and the world's best logistics support. The City will launch operations by servicing strategic sectors and will include specialised avenues (boulevards) for food, construction materials, electrical appliances, electronics, furniture and decor, machinery, equipment, wood, vehicles and spare parts, and textiles and clothing.
Dubai Wholesale City will also activate the world's largest e-commerce platform for wholesale trade in the region. The new service aims to enhance the UAE's capabilities in the global e-commerce space that is set to grow from $1.672 trillion to reach $2.941 trillion in 2018, with a compound annual growth rate of 21%.
It is noteworthy that the UAE's e-commerce market growth rate is expected to be double of the global growth rate in e-commerce. According to market speculations, it will surge up to four times its current size through the next three years - to rise from a value of US$2.5 billion in 2015 to US$10 billion in 2018, a compound annual growth rate of 59%.
During the launch, Sheikh Mohammed reiterated the role of trade in the nation's prosperity and said that it was a key contributor to maintaining the UAE's economic success, as well as a crucial sector in its future development."
He added, "The UAE's strategic location, world-class infrastructure, and strong institutions make it the most qualified place to lead the new wave of growth in wholesale trade, on an international scale."
Sheikh Mohammed concluded, "Our aim is to build a sustainable national economy. Dependency on oil was never a choice and we will not bind our future to it."
Dubai Wholesale City is a fully-integrated trading hub that aims to meet the needs of the local and international wholesale trading sector. The destination is projected to emerge as the world's leading wholesale trading hub and strengthen the UAE's position as a pivotal market in global trade. Wholesale trade is among the most important economic sectors today with huge growth prospects. Global trade is projected to grow by 12% to US$4.9 trillion in 2019.
The hub will serve as an international trade exhibition facility and provide wholesale traders with comprehensive offerings, including state-of-the-art infrastructure, roads, warehousing, storage facilities and support services, thus guaranteeing high operational efficiency and ease of doing business. For its part, the international business-to-business exhibition facility will convene buyers with suppliers from around the world. The sizeable asset will serve as a mediator in global trade and open up a raft of service options to producers and traders, even while saving them time and effort.
Dubai Holding will be developing the new 'City'. Mohammed Al-Gergawi, Chairman, Dubai Holding, said, "The new Dubai Wholesale City complements the series of projects in the emirate that articulate the unique vision of Sheikh Mohammed bin Rashid towards launching integrated destinations (cities) that serve diverse economic sectors. These include, amongst others, the Dubai Internet City and Dubai Media City that collectively host more than 5,200 companies and over 67,000 professionals across multiple industry verticals."
He added, "Dubai Holding is committed to supporting the vision of the UAE's wise leadership in achieving sustainable development. And, Dubai Wholesale City is among several projects that we have conceptualised as part of our priority to help achieve the UAE's post-oil vision. The launch of the Dubai Wholesale City comes as a result of intensive discussions and meticulous studies of the wholesale sector, and the plethora of opportunities it offers. We are confident this project will have immense positive impact on wholesale trade in the UAE, the Gulf region and the rest of the world."
The project in its first phase will service a number of key sectors in an eco-friendly environment adhering to the highest quality standards of energy conservation, waste management and industrial hygiene. Dubai Wholesale City will deploy the latest technology and range of smart city features to make trade operations seamless and efficient.
Dubai Wholesale City's proximity to major markets connecting three quarters of the world's population within a seven hour flying time makes it an ideal meeting point between the east and the west and serves as a key factor in distinguishing it from other wholesale hubs worldwide. The new city will also benefit from Dubai's advanced logistics services and its distinctive location 10 minutes away from Al Maktoum International Airport and the Jebel Ali Port, two major gateways for global cargo and shipping industries.
While boosting the wholesale trade sector, the new city is projected to translate a positive spillover impact on other sectors linked to trade such as logistics, financial services, aviation, hospitality, and business tourism.
Spanning an area of over 550 million square feet, Dubai Wholesale City will aim to grow as a global wholesale hub and the region's primary one-stop-shop for a wide range of integrated wholesale products and solutions. The new destination will utilize its comprehensive offerings, advanced purpose-built infrastructure and support services to attract local, regional and international wholesale traders.
Mohammed participates in Dubai Civil Defence celebrations
His Highness Sheikh Mohammed bin Rashid Al Maktoum, Vice President and Prime Minister of UAE and Ruler of Dubai today joined the staff of Dubai Civil Defence in celebrating World Civil Defence Day, being marked this year under the theme, 'Civil Defence and Modern Media.'
During a visit to a civil defence centre on Sheikh Zayed Road, he praised the emirate's civil defence teams for making heroic efforts and successfully controlling the fire that gutted The Address hotel in Downtown Dubai hours before the New Year celebrations.
Sheikh Mohammed was accompanied by Sheikh Hamdan bin Mohammed bin Rashid Al Maktoum, Crown Prince of Dubai; Sheikh Maktoum bin Mohammed bin Rashid Al Maktoum, Deputy Ruler of Dubai; Lt. General Sheikh Saif bin Zayed Al Nahyan, Deputy Prime Minister and Minister of the Interior; Lt. General Dahi Khalfan, Deputy Chief of Police and Security of Dubai, Lt. General Saif Abdullah Al Sha'far, Undersecretary at the Ministry of Interior; and Khalifa Saeed Sulaiman, Director-General of Dubai's Protocol and Hospitality Department.
Greeting them on the occasion, Sheikh Mohammed wished for further personal and professional success for the civil defence staff.
"Brave people pursue the profession of civil defence to rescue others, protect public and private property and show the noblest values of sacrifice to serve the country and protect the safety and property of society," Sheikh Mohammed bin Rashid told the civil defence staff.
"I urge you not to sit on laurels after making achievements. One might say they have done a great work and it is time to take rest. But this does not reflect the resolve of our people. Whoever does an important job have to continue their efforts actively, pursue learning and training on a daily basis and keep updated about developments in their area of work in order to achieve the best results, fulfil their personal aspirations and their leaders' expectations to ultimately achieve global standards," he added.
Director-General of Dubai Civil Defence, Major General Rashid Thani Al Matrooshi, gave a presentation about an advanced smart civil defence system being used across UAE.
Sheikh Mohammed also learned about Dubai Civil Defence's future plans at the emirate's seafront to deal with any offshore fires and other incidents.
Follow Emirates 24|7 on Google News.