Mohammed launches initiative to plant one million trees in Dubai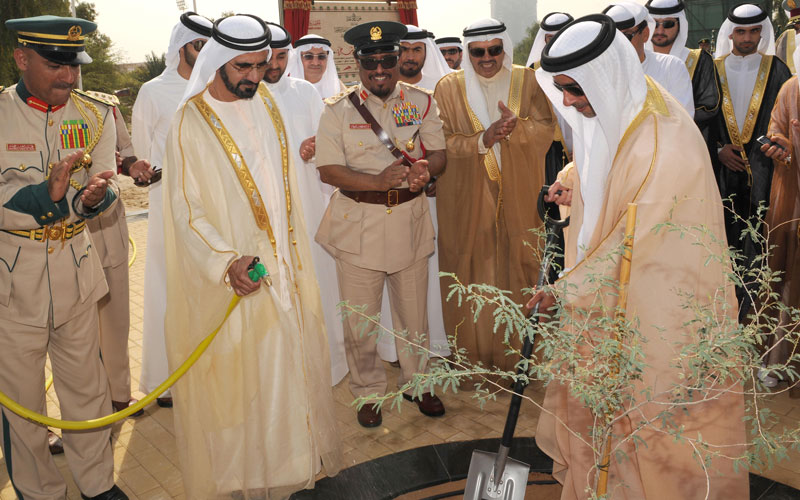 His Highness Sheikh Mohammed bin Rashid Al Maktoum, Vice-President and Prime Minister of the UAE and Ruler of Dubai, on Wednesday launched a new initiative to plant one million trees in Dubai.
Sheikh Mohammed began the drive by planting the first tree at the main square inside the Dubai Police Academy after unveiling a commemorative plaque for the campaign.
The campaign has been launched by Dubai Police in cooperation with Dubai Municipality and other related authorities.
Sheikh Mohammed was at the academy to also attend the graduation ceremony of post-graduate students who obtained master's degree and the 18th batch of Cadet Officers at the Dubai Police Academy.
Also present at the ceremony were Dubai Deputy Ruler Sheikh Maktoum bin Mohammed bin Rashid Al Maktoum, Umm Al Quwain Crown Prince Sheikh Rashid bin Saud bin Rashid Al Mualla, Deputy Prime Minister and Minister of Interior Lt General Sheikh Saif bin Zayed Al Nahyan, Chairman of Dubai Culture and Arts Authority Sheikh Majid bin Mohammed bin Rashid Al Maktoum, Sheikh Mansour bin Mohammed bin Rashid Al Maktoum, Commander-in-Chief of Dubai Police Lt General Dhahi Khalfan Tamim, other sheikhs, senior police officers, dignitaries, members of diplomatic missions and parents of graduates.
Director General of the Academy Major General Dr Mohammed Ahmed bin Fahd hailed the comprehensive development being experienced by the UAE, especially in the areas human resources development, security and education.
He added that the academy will include the doctorate programme to become the first police academy in the Arab world to so.
Later Sheikh Mohammed watched as the graduates marched in formation amid much praise and applause. He then honoured the top seven graduating officers, handing them their awards and personally congratulating them on their achievements.
He called on the graduates to continue their studies and increase their efforts, as the responsibility of maintaining peace and security in the country rests on their shoulders.
Sheikh Maktoum then distributed certificates to the 119 graduating officers in Maktoum bin Rashid Hall at the academy.
After all the awards and certificates were distributed, Sheikh Mohammed listened as the graduates recited a poem in his honour.
Follow Emirates 24|7 on Google News.