Mohammed launches Meydan One with world's tallest residential tower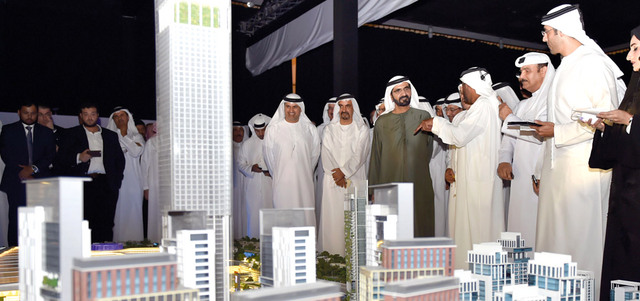 The Meydan City Corporation has announced the development of a new 3.67 million sqm leisure, residential and hospitality destination within the heart of Dubai, at a VIP launch event at The Meydan Hotel.

His Highness Sheikh Mohammed bin Rashid Al Maktoum, Vice-President and Prime Minister of the UAE and Ruler of Dubai, officially approved the development of Meydan One, which will become home to more than 78,300 residents and feature the 711 metre tall Dubai One tower, the Meydan One Mall, a civic plaza with dancing water features, a 4km canal and a 100 berth marina.
The first phase of the development, located between Meydan and Al Khail Road, is scheduled for completion before 2020, when Dubai's population is forecasted to hit 3.4 million.
Meydan One Mall

The Meydan One Mall will be a never-before seen concept, featuring a 150m x 80m retractable roof, which will be opened in the cooler, winter months to create an alfresco shopping and dining atmosphere.

With more than 300 restaurants, cafes and kiosks offering fine dining and fast food options, the mall will also attract flagship retailers, luxury stand-alone outlets and nightlife.
Largest indoor ski slope
Set to become Dubai's No. 1 leisure destination with a gross floor area of 5million sqm, it will feature the world's longest indoor ski slope at 1.2km, a 25,000sqm indoor multi-purpose sport facility, over 5.3km bicycle and jogging trails, a 9km boardwalk, the largest dancing fountain in the world reaching over 420m long, a 300m long beach, a civic plaza to host up to 60,000 people and a one of a kind heritage village.

Meydan Chairman Saeed Humaid Al Tayer said: "In a city that never stops innovating, today's announcement is significant for the future of Dubai and the UAE. We have committed to developing a multi-use destination, which goes beyond expectations and will cater to every kind of person living and working here, as well as those who travel from around the world to visit.
"Our efforts in creating world-class indoor and outdoor sporting facilities reinforce the role we are playing in the community to create sustainable, sought after services that will contribute to the health of our nation.

"These are exciting times at the Meydan City Corporation and the hard work starts now to ensure Meydan One is Dubai's No. 1 leisure, hospitality and residential district.

"This development is a forward-thinking, interactive enterprise geared towards the Dubai of tomorrow.

"The encouragement and support we have received in the past from our trusted partners will now help the Meydan One development come to life.

"The first phase will be completed as Dubai prepares to host the World Expo 2020."
Sports facility

The 25,000 sqm indoor multi-purpose sports facility will offer every sport imaginable, including tennis, football, basketball, volleyball, squash, indoor cricket, mixed martial arts, softball, a baseball batting cage, lacrosse, golf and hockey.

Skiing and snowboarding will be facilitated on the 1.2km ski slope.

Meydan Arena is located at the base of the ski slope structure and with a seating capacity of 8,000 will play host to sporting events, live concerts and theatrical shows.
Outdoor sports options will include football pitches, mountain biking, walking and running trails, a skateboard park and a BMX park.
World's largest dancing fountain

The new civic plaza, large enough to comfortably host 60,000 people, will be home to a floating stage, fountains and a waterfall.

The 420m long jet fountain displays will be the world largest and will include light laser shows choreographed with digital screens.

Any kind of event will be possible, from civic gatherings, concerts, UAE National Day celebrations, film, art and food festivals, sport and fashion shows.
Beach in heart of city
The 300m long beach, sitting adjacent to the aqua marine Crystal Lagoons, will offer visitors swimming, paddle boats, sea kayaking, beach volleyball and night time light displays, as well as direct access to a new Water Park, beach bar and restaurants.
World's tallest residential tower

The world's tallest residential tower, The Dubai One and its integrated podium incorporate 350,000 sqm of gross floor area, 885 residential apartments, a 5 star hotel with 350 hotel keys, a conference centre, a 360-degree observation deck at 655m high (world record), a sky restaurant at 675m high (world record), a plaza view restaurant and terrace as well as the Meydan One Marina Yacht Club.

Meydan's vision began with the completion of the Grandstand in 2010 and was underlined by the Group's role in the development of Mohammed Bin Rashid Al Maktoum City, specifically District One, a collection of premium villas within the heart of new Dubai.

The construction of Meydan One will complete the company's commitment to helping create the future of Dubai through the development of attractive, family oriented residential and lifestyle projects.
Present at the launch were Sheikh Ahmed bin Saeed Al Maktoum, Chairman of Dubai Civil Aviation Authority and Chief Executive of Emirates Group, Mohammed bin Abdullah Al Gargawi, Minister for Cabinet Affairs, Reem bint Ibrahim Al Hashemi, Minister of State, Lt. General Musabah Rashid Al Fattan, Director of Dubai Ruler's Office, Khalifa Saeed Sulaiman, Director General of Dubai Protocol and Hospitality Department, senior officials and members of the business community.
Follow Emirates 24|7 on Google News.