Mohammed meets with orphaned children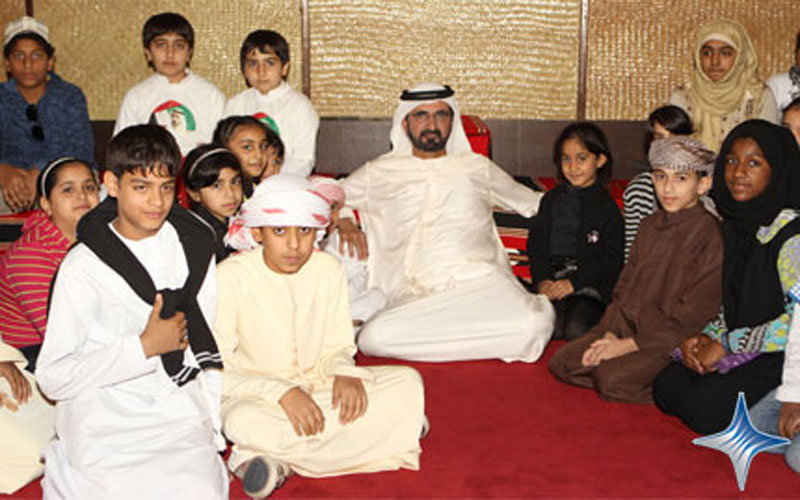 As part of celebrations to mark the fifth anniversary of his accession as the Ruler of Dubai, UAE Vice President and Prime Minister His Highness Sheikh Mohammed bin Rashid Al Maktoum met with a group of 30 orphaned Emirati children at Bab Al Shams Resort on Tuesday.
Welcoming the orphans to the desert retreat, Sheikh Mohammed said, "I came to this desert to meet you as my children," before urging them to express their love for UAE President His Highness Sheikh Khalifa bin Zayed Al Nahyan.
After explaining that they were gathered as one family, both Arab and Muslim, Sheikh Mohammed described how five decades ago, UAE nationals lived in small mud huts with access to very few schools and hospitals, and without the advantages of modern education and urban development.
Sheikh Mohammed encouraged the young children to arm themselves with education to face the future, before adding that they should seek knowledge, wisdom and patience from the elderly, as well as a love for their homeland.
Responding to the children's questions concerning his family and pastimes, Sheikh Mohammed said that his eldest daughter's name is Hassa and that his passions are horse riding, hunting, reading and writing poetry. He went on to tell the assembled children that his favourite colour was blue and that he enjoyed driving 4WD vehicles and visiting friends and relatives.

On being asked about his childhood ambitions, Sheikh Mohammed said that rather than being focused on becoming a ruler or vice president, he was more interested in pleasing his father, while obeying and learning from him.
After viewing a number of the children's paintings and distributing gifts to them, Sheikh Mohammed received a couple of token presents in return from the young orphans.
Also present at the meeting were Cabinet Affairs Minister Mohammed Abdullah Al Gergawi, Director of Dubai Ruler's Office Lt. General Musabbah Rashid Al Fattan, Advisor to the Dubai Ruler for Cultural and Humanitarian Affairs Ibrahim Bumalha and Dubai Director of Protocol and Hospitality Khalifa Saeed Suleiman.
MBRHE allocates 509 new houses for citizens
The Mohammed bin Rashid Housing Establishment (MBRHE) has begun the allocation of new houses for citizens in the emirate.
The move will see the distribution of 509 houses built in Warqa area in Dubai city on two different schemes of grants or long term concessional loans.
The new season of housing allocation coincides with the fifth anniversary of the accession of Vice President and Prime Minister of UAE and Ruler of Dubai His Highness Sheikh Mohammed bin Rashid Al Maktoum as the Ruler of Dubai.
The gesture also reflects the keenness of the Ruler to provide decent and comfortable housing for the citizens in the emirate.
The 509 modern villas in Warq area 4 are built adopting the traditional, local, Andalusian and Islamic architectural designs at a total coast of Dh633 million. Among the total housing units of various sizes built on eight hectares of land, 80 villas will be given as grants.
Addressing a press conference held in Dubai today, the Executive Director of MBRHE Sami Gargash said that the Establishment utilised this opportunity to launch the Warqa 4 project as a glad tiding for the citizens on this dearest occasion we all cherish.
'Mohammed Bin Rashid: The March of Giving'
An exhibition of photographs of Vice President and Prime Minister of UAE and Ruler of Dubai HH Sheikh Mohammed bin Rashid Al Maktoum opened in Dubai today under the patronage of Sheikh Majid Bin Mohammed Bin Rashid Al Maktoum, Chairman of Dubai Authority of Culture and Arts.
The exhibition entitled 'Mohammed Bin Rashid: The March of Giving' shines light on various aspects of Sheikh Mohammed's personality and showcases rare photographs which have not been seen by many.
The exhibition is organised by Juma Al Majid Centre for Culture and Heritage in cooperation with the Mirdiff city Centre Dubai.
Follow Emirates 24|7 on Google News.