Mohammed receives ambassadors of Spain, Canada and Malaysia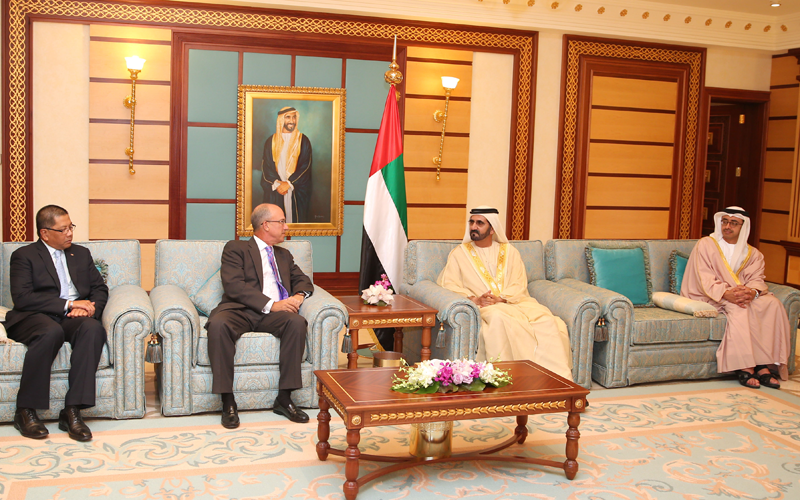 His Highness Sheikh Mohammed bin Rashid Al Maktoum, Vice President and Prime Minister of the UAE and Ruler of Dubai, received on Sunday the newly appointed ambassadors of Spain, Malaysia and Canada, who came to greet him at the beginning of their tenure in the UAE.
Sheikh Mohammed welcomed Ambassador of Spain Jose Eugenio Salarich, Ambassador of Malaysia Ahmed Anwar bin Adnan and Canadian Ambassador Arif Lalani in the presence of Sheikh Abdullah bin Zayed Al Nahyan, UAE Foreign Minister.
Sheikh Mohammed wished the new envoys a pleasant stay in the UAE and success in their mission, assuring them of the support and assistance from the concerned authorities in the UAE to enable them to carry out their duties to serve the joint interests and expand cooperation between their respective countries and the UAE in various fields.
The meeting was attended by Cabinet Affairs Minister Mohammed Abdullah Al Gargawi, Minister of State for Foreign Affairs Dr Anwar Mohammed Gargash, Minister of State Reem Ibrahim Al Hashemi, Director of Dubai Ruler's Office Lt. General Musabbah Rashid Al Fattan, Dubai Director of Protocol and Hospitality Khalifa Saeed Suleiman and a number of officials.
Ajman Ruler condoled on death of brother
Sheikh Mohammed visited Al Zaher Palace on Sunday and offered condolences to Sheikh Humaid bin Rashid Al Nuaimi, Supreme Council member and Ruler of Ajman, on the death of his brother Sheikh Abdullah bin Rashid Al Nuaimi.
Sheikh Ammar bin Humaid Al Nuaimi, Crown Prince of Ajman, sons of the deceased, Mohammed Abdullah Al Gargawi, Minister for Cabinet Affairs, Lt. General Musabbeh Rashid Al Fattan, Director of the Office of the Vice President and Prime Minister and Ruler of Dubai and Khalifa Saeed Sulaiman, Director General of Dubai Protocol and guests were present on the occasion.
Follow Emirates 24|7 on Google News.