Mohammed receives Hillary Clinton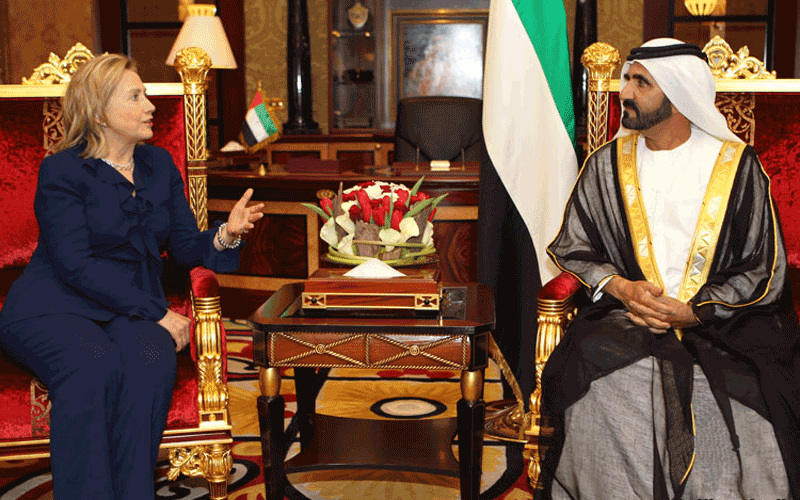 UAE Vice President, Prime Minister and Ruler of Dubai His Highness Sheikh Mohammed bin Rashid Al Maktoum received US Secretary of State Hillary Clinton and her accompanying delegation at Za'abeel Palace today.
The meeting was held in the presence of Dubai Crown Prince Sheikh Hamdan bin Mohammed bin Rashid Al Maktoum, Dubai Deputy Ruler Sheikh Maktoum bin Mohammed bin Rashid Al Maktoum and Foreign Minister Sheikh Abdullah bin Zayed Al Nahyan.
The US Secretary is currently visiting the UAE as part of a regional tour.
During their meeting Sheikh Mohammed and Hillary Clinton reviewed the friendly relations between their two countries, as well as ways to boost cooperation in various fields.
They also exchanged views on the prominent role played by women in the UAE, with Clinton pointing to their active participation in the country's cultural renaissance and the prestigious position that they occupy in UAE society. The US Secretary described the nation's women as role models to be emulated by female citizens across the region.
Clinton went on to express her admiration for the good living conditions and stability enjoyed by the American community living in UAE society, which she described as being steeped in ethnic and religious diversity.
As the meeting moved on Sheikh Mohammed and the US Secretary reviewed the overall situation in the region, particularly issues related to security and peace, with Clinton remarking on the key role played by the UAE in maintaining stability in the Middle East. On discussing the UAE's strong support for strengthening stability in Iraq and Afghanistan, she noted that such vital contributions to security were made under the guidance of the UAE's wise leadership through their commitment to international resolutions and their promotion of a culture of dialogue to resolve conflicts.
Also present at the meeting were Chairman of Dubai Civil Aviation and Chief Executive of Emirates Group Sheikh Ahmed bin Saeed Al Maktoum, Chairman of Dubai Culture and Arts Authority Sheikh Majid bin Mohammed bin Rashid Al Maktoum, Cabinet Affairs Minister Mohammed Abdullah Al Gergawi, Minister of State for Foreign Affairs Anwar Mohammed Gargash, Minister of State Reem Ibrahim Al Hashemi, Director of Dubai Ruler's Court Mohammed Ibrahim Al Shebani, Director of Dubai Ruler's Office Lt. General Musabbah Rashid Al Fattan, UAE Ambassador to the United States Yousef Al Otaiba, US Ambassador to the UAE Richard Olsen and other senior officials.
Follow Emirates 24|7 on Google News.