Mohammed receives UNDP Deputy Secretary General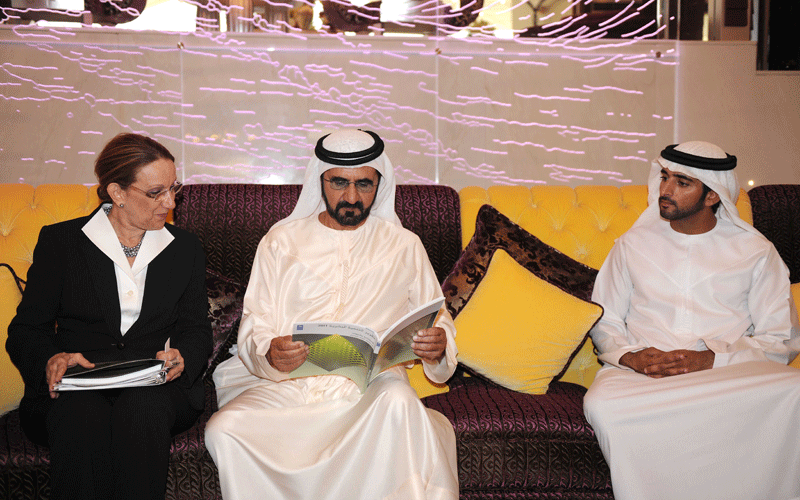 His Highness Sheikh Mohammed bin Rashid Al Maktoum, the Vice-President and Prime Minister of UAE and Ruler of Dubai, received on Tuesday at Za'beel Palace United Nations Development Programme (UNDP) Deputy Secretary General Rebecca Grynspan.
Attended by Sheikh Hamdan bin Mohammed bin Rashid Al Maktoum, Crown Prince of Dubai and Sheikh Maktoum bin Mohammed bin Rashid Al Maktoum, Deputy ruler of Dubai, the two sides discussed during the meeting a number of human development and economic programmes being implemented by the UNDP in poor areas.
Grynspan briefed Sheikh Mohammed on the Global Human Development Report, which ranked the UAE on the top of Arab countries and thirtieth in the world.
Sheikh Mohammed and the UN official also explored ways to further boost communications and cooperation between the UAE government and the UNDP office in the UAE on the development issues and humanitarian aid.
Grynspan thanked the Vice President about the humanitarian assistance being provided by the UAE to the areas hard hit by the droughts, natural calamities and wars, praising the UAE's record in this respect.
The meeting was also attended by Sheikh Hashr bin Jumaa Al Maktoum, Director of Information Department in Dubai, Reem Ibrahim Al Hashimi, State Minister, Lt. General Dhahi Khalfan Tamim, General Commander of Dubai Police, a number of officials and Director of the UNDP in Abu Dhabi.
Follow Emirates 24|7 on Google News.