Mohammed receives World Bank President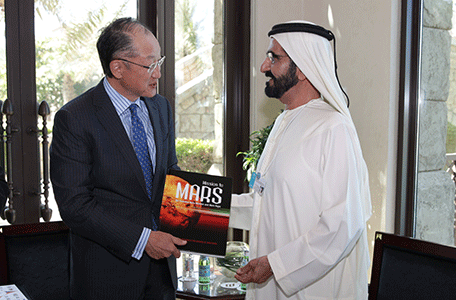 Mohammed receives World Bank President
His Highness Sheikh Mohammed bin Rashid Al Maktoum, Vice-President and Prime Minister of the UAE and Ruler of Dubai, received on Sunday Professor Klaus Schwab, Founder and President of the World Economic Forum, who is in Dubai to participate in the fourth edition of the World Government Summit, under the title, 'Shaping Future Governments'.
The international gathering of heads of states, United Nations, World Bank, representatives of 125 world governments and eminent international organisations, is set to run from February 8 to 10, 2016, under the patronage of Sheikh Mohammed bin Rashid at the Madinat Jumeirah.
Sheikh Hamdan bin Mohammed bin Rashid Al Maktoum, Crown Prince of Dubai, and Sheikh Maktoum bin Mohammed bin Rashid Al Maktoum, Deputy Ruler of Dubai, attended the meeting.
Sheikh Mohammed and Professor Schwab reviewed the latest economic and information technology advancements at regional and international levels, as well as the Fourth Industrial Revolution which focuses on the positive impact of modern technology on progress of science, innovation, human and economic development.
Meanwhile, Sheikh Mohammed also welcomed Jim Yong Kim, President of the World Bank Group, to discuss with him his participation in the World Government Summit and a host of topics including economy, governance and UAE's experiments in this respect. The World Bank President praised the UAE's successful experiment in this field.
Sheikh Mohammed with Professor Klaus Schwab, Founder and President of the World Economic Forum in Dubai on Sunday (Wam)
Sheikha Lubna bint Khalid Al Qasimi, Minister of International Cooperation and Development, MICAD, Mohammed bin Abdullah Al Gargawi, Minister for Cabinet Affairs, Sultan bin Saeed Al Mansouri, Minister of Economy, Saqr bin Ghobash Saeed Ghobash, Minister of Labour, Dr. Rashid Ahmed bin Fahad, Minister of Environment and Water, Suhail bin Mohammed Faraj Faris Al Mazrouei, Minister of Energy, Obaid bin Humaid Al Tayer, Minister of State for Financial Affairs, Dr. Sultan bin Ahmed Sultan Al Jaber, Minister of State, and a number of senior officials, attended the two meetings.
Mohammed chairs HCC's inaugural meeting
His Highness Sheikh Mohammed bin Rashid Al Maktoum, Vice-President and Prime Minister of the UAE and Ruler of Dubai presided over the inaugural meeting of the Humanitarian Consultative Council (HCC), which was held today at Mina Al Salam Hotel in Dubai.
In attendance were Sheikh Hamdan bin Zayed Al Nahyan, Ruler's Representative in the Western Region and Chairman of the Emirates Red Crescent (ERC), Dr. Nabil Al Arabi, Secretary General of the Arab League and Dr. Abdulatif bin Rashid Al Zayani, Secretary General of the Gulf Cooperation Council (GCC).
Following the meeting, Sheikh Mohammed launched the 'Dubai Humanitarian Statement,' which reiterated the UAE's readiness to face all regional and global challenges on social, humanitarian, economic and developmental fronts.
"Inspired by the determination of our wise leadership and the legacy of our founding father, the late Sheikh Zayed bin Sultan Al Nahyan, we continue the journey of excellence which enabled the UAE to become the world's largest foreign aid donor, relative to gross national income," he said.
Sheikh Mohammed underlined the increasingly growing global crises, with 21 disasters taking place last year, including 18 due to conflicts and three due to natural calamities. He added that international funds covered only 35 percent of emergency needs for over 20 million people who became refugees, while 60 million people were displaced around the world in 2015.
The meeting was attended by the members of the HCC, which is an initiative of the Dubai-based International Humanitarian City, part of the Mohammed bin Rashid Al Maktoum Global Initiatives Foundation.
Follow Emirates 24|7 on Google News.